Virgin Voyages, Ritz Carlton Yacht Collection Set to Meet Big Expectations
by Daniel McCarthy /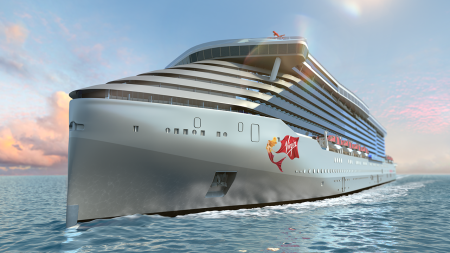 Two of the newest names to make waves in the cruise industry unveiled details of their new products this week, and with them, brought big plans and even bigger expectations.
Ritz Carlton Yacht Collection CEO Doug Prothero and Virgin Voyages President and CEO Tom McAlpin joined attendees at Seatrade Cruise Global in Fort Lauderdale to unveil more details of their respective launches.

Ritz Carlton Yacht Collection CEO Doug Prothero and Virgin Voyages President and CEO Tom McAlpin speaking at Seatrade.
Ritz Carlton 
Ritz Carlton initially announced its new three-ship yacht cruise line in June 2017. The announcement came as the luxury cruise market was more crowded than ever, but the brand has an advantage over the other lines in the market in that it already has a database of customers to call on.
"That audience is the Ritz Carlton loyalty guests, 76,000 luxury suites worldwide … so we're speaking to that Marriott luxury customer," Prothero said.
Each decision has been made with that Ritz Carlton guest in mind. "The ship itself is a starting place, so we said, 'What is it that our Ritz Carlton guests [would want?]'… 'What should it look like?'" he added.
The ships will be all-terrace, all-balcony ships. The lowest decks will be a series of duplex suites so that the lower level is a bedroom suite and the upper level has a terrace. There will be a Ritz Carlton Spa, as well.
There will be five dining venues for 298 guests, each one divided into smaller spaces so that even the largest dining room "feels like 10 smaller venues." The yachts will feature many intimate spaces and four larger spaces that will be able to fit all guests at one time.
As far as dress code, "This is really more like Ritz Carlton reserve … casual elegance — you might see a jacket in the evening, but you're not going to see flip flops and bikinis in the dining room," according to Prothero.
Water sports equipment will be featured onboard as will the traditional Ritz Carlton concierge team "ready to deliver whatever."
Entertainment will include a series of intimate performance spaces, in-house entertainment, a team of jazz and classical musicians that will help passengers connect with the destinations.
All ships will feature free WiFi. There will be no casino onboard.
For destinations, the line will use larger ports for turnaround, but its focus will be on "smaller places where you aren't likely to see a bunch of cruise vessels."
"If you think of the Caribbean, we will put a lot of our focus in the Southeast where yachting is very common. Wonderful cruising destinations for yachts," Prothero said. Calls will include Barbados, Cartagena, Bordeaux and Copenhagen, Mykonos, Portofino, Carriacou, Falmouth Harbour, Gustavia, and the Balearic Islands.
The debut sailings will go on sale in May.
Virgin Voyages
From the moment it launched, Virgin Voyages sought to separate itself from the normal idea of cruising.
"It really starts with the name. Virgin Cruises was just too easy, and Virgin Voyages says a lot more about what we are trying to achieve," McAlpin said. "A voyage is something that's different, it's a journey, we want to be a transformative experience … the name just sets the expectations."
McAlpin sees Virgin Voyages, an adults-only cruise line that will officially hit the water in 2020, as a brand that is not only going to excite current cruisers, but is going to expand the industry's pull, because of its brand. It's not going to be a disruptor but, rather, an addition.
"What was really important was that there was a higher percentage of the potential cruisers who have not been on a cruise before and will go on Virgin Voyages based on the branding," he said. "What Virgin brings is a brand that is very trusted, it's a brand that's fun and hip. They know they're going to have fun."
The ships will be built for 2,750 passengers each with 90 percent of the cabins featuring balconies. The ship size gives Virgin Voyages the ability to "go to unique places and have a more intimate experience."
And the adults-only choice was made after "a lot of research," McAlpin said.
"Every time we did the focus group, people winced when we spoke about children … even parents bringing their kids in an adult experience didn't feel comfortable … it's bold, it's different," he said. "We can create a premium and elevated experience … people will pay a premium for an adult experience.
The ships' hardware will further differentiate it from the rest of the market (though, they will all have casinos).
Each ship will offer a lot more entertainment venues around the ship rather than the traditional main theater. The cabins will have a different design than typical staterooms, as McAlpin said his team went through at least a half dozen prototypes during the two-and-a-half-year design process.
Virgin Voyages is also hoping to provide a unique onshore experience, McAlpin said. "We want something that is off-the-beaten-path, yet authentic." The first ship will homeport in Miami but will visit ports that will provide a more intimate experience.
"It's not only about where you go but it's how you experience it, it's when you arrive. We may arrive later and stay later, it's about how you create that experience," McAlpin said.
Virgin Voyages hopes to put the sailings on sale by the end of the year. McAlpin said the brand will work with its sisters Virgin Atlantic, Virgin Holidays, and Virgin Hotels to do some pre- and post-packaging.