September 9, 2020 Shared from cruisingjournal.com
Thorsten Hagen is About to Change the Future of Cruise Ships…Again.
Thorsten Hagen, Founder and Chairman of Viking Cruises, is a man on a mission. Not content to have built the world's largest fleet of River Cruise Ships, numbering 73, and the world's number-one rated fleet of Ocean-going Cruise ships, now numbering 6, Hagen is about to turn the fast-growing Expedition Cruise business on its head.
At an extravaganza that outdid the Golden Globes held in the same Beverly Hilton ballroom just the week before, Hagen led off the presentation by stating: "We are the travel company that covers the most water on earth". An astonishing feat for Viking which was just a gleam in Hagen's eye 20 years ago. 2020 will see over 500,000 passengers traverse the globe in Viking's fleet. 6 identical oceangoing vessels, the oldest of which was just launched in 2015, are so hugely appealing that they captured Travel & Leisure's World's Best Award in the Luxury category every year since 2016. But please don't call Viking 'luxury'. Hagen doesn't. He stated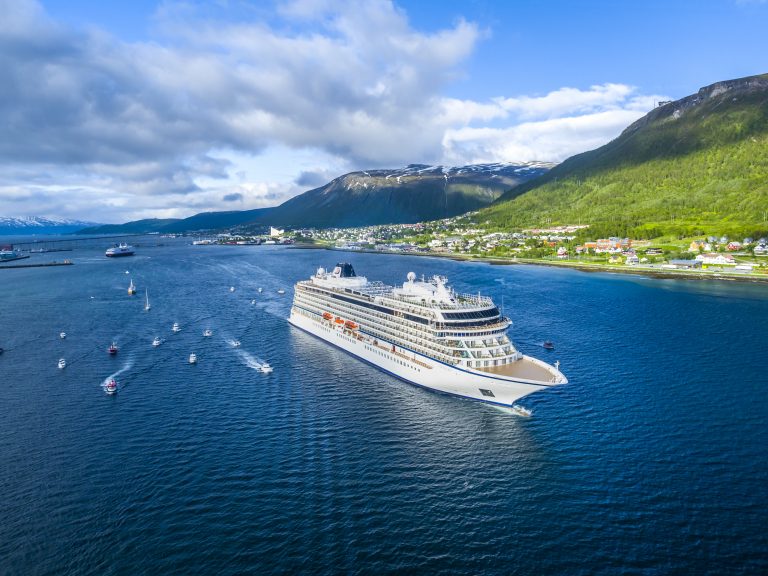 "Many people confuse luxury with opulence." To Hagen, luxury is simplicity. He certainly has hit his mark with his preferred passengers: Over 55 years old, English-speaking, affluent, curious, and active. Interested in History, Science, Culture and Music. And he is perfectly willing to walk away from Intergenerational travel and children altogether. No one under 18 is invited to this particular party. And what a party it will be again this year as Viking will launch seven new River Ships. Six more Ocean liners are on order, with options for another four. That could bring Viking's Ocean fleet to to 16 ships by 2027.
What sets Viking Ocean apart from its growing competition? Practically everything. Flooded with light, its ships' interiors are both a model of Scandinavian simplicity and supreme comfort. Every single stateroom has a balcony and there are no inside cabins whatsoever. Despite carrying 930 passengers, there is none of the banquet hall feeling in the Dining Room. Quiet nooks and plentiful libraries are perfect for the lifelong learners Viking attracts. Viking has partnered with cultural organizations to offer an extraordinary array of intellectual enrichments. From music to Viking culture, to art and culinary classes, TED talks and Destination performances, Viking offers onboard experiences to complement passengers time a shore. But the biggest differentiators of all is what Viking doesn't have.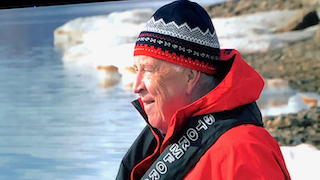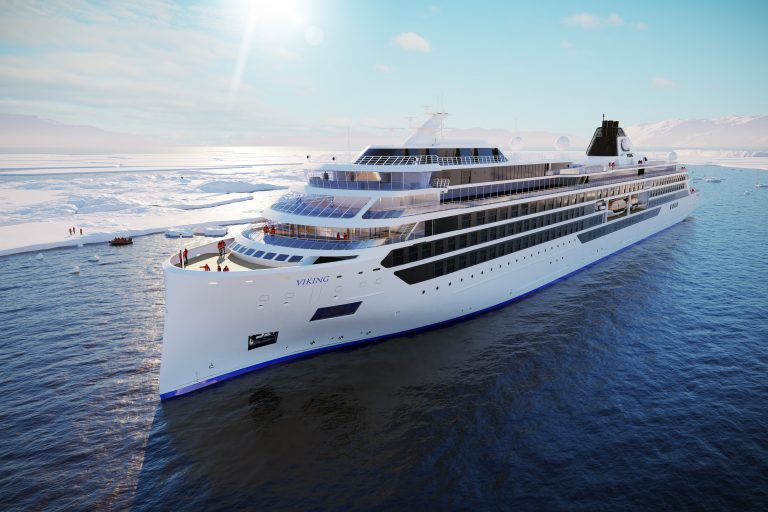 Viking does not have a Casino aboard any of its ships. It does not charge a fee for its truly Nordic Spa. There are no fees to eat in any one of its 8 dining options. There is no charge for beer or wine with your meals. There is no charge for the ships WiFi which, every time we sail with Viking, just gets better and better. And every single port, there is at least one included shore excursion. Quite simply, there is no nickel-and-diming aboard Viking, costs which quickly add up at lower per diem pricing.
It should come as no surprise that Thorsten Hagen has been planning the launch of his latest project, his Expedition fleet, since 2013 when his first Ocean-going ship had yet to be launched. No less than 19 new Expedition ships have been ordered for delivery by 2022 by 6 major and a number of minor cruise lines. These ships are delivering to an audience that virtually has 'been there, done that'. And these voyages sail to destinations that are difficult to reach any other way than by ship. Viking passengers are among those most interested in these voyages. To no one's surprise, in 2022 Viking is launching two of them six months apart.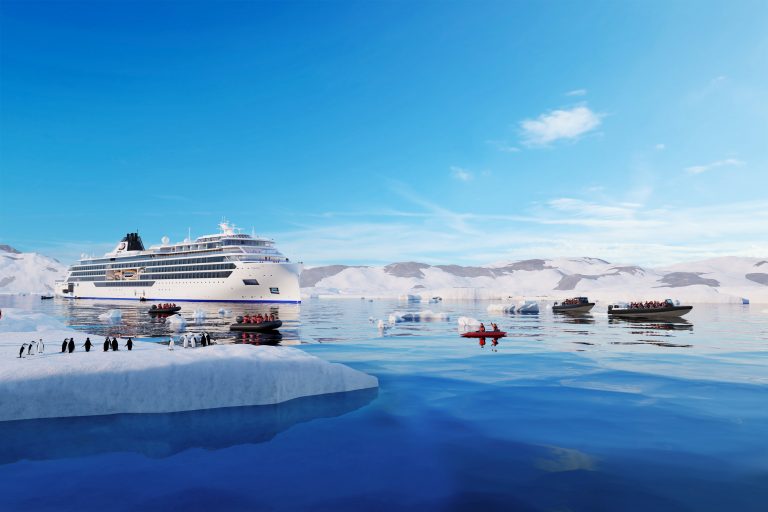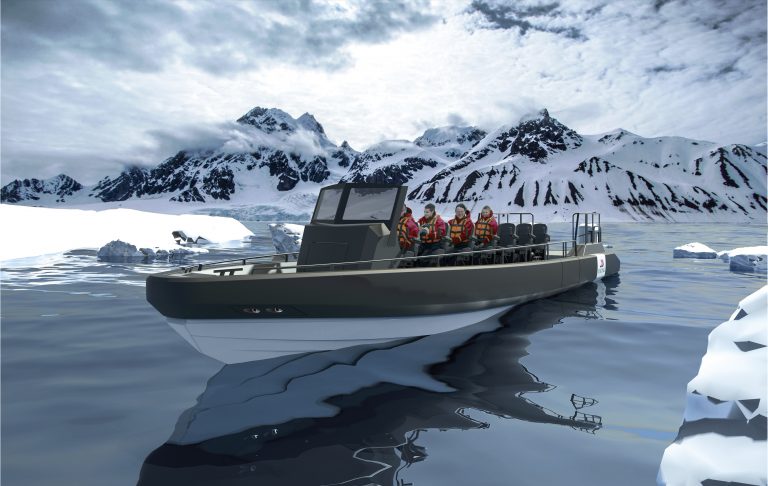 Viking Octantis and Viking Polaris will carry 378 passengers and 260 crew. Sleek and streamlined, these ships are Polar Class 6 vessels. They're 665 feet long and just 77 feet wide. They're built to not only maneuver nimbly but their size makes for supremely comfortable sailing in any weather. Creature comforts will abound. Every stateroom has a Nordic Balcony, a floor to ceiling wall of glass that converts to an open-air viewing platform. They're designed to enhance the chance of spotting wildlife and to open the room to views of the wildnerness. The suites feature private verandas. The Owner's Suite has an outdoor garden and its own badestamp—Norwegian for "hot tub". The bathroom floors are heated. And there's a floor-to-ceiling 'drying closet' that circulates warm air to dry your gear. Leave it to Viking to provide each passenger with an "Expedition Kit"—boots, waterproof pants and Nordic trekking poles and a souvenir Viking Expedition jacket can all be stowed in the drying closet.
Step outside your cabin and you'll find yourself surrounded by unique opportunities to maximize your expedition. There are no less than 25 experts on each adventure. In addition to Viking's Expedition team there are Resident Scientists from Viking's partnerships with the University of Cambridge, The Cornell Lab of Ornithology and Scott Polar Research Institute.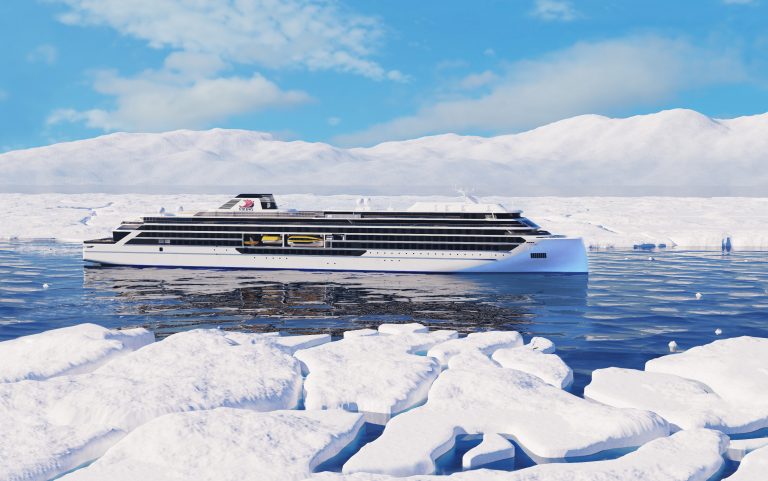 Each ship is designed as a working research vessel. Guests are invited to participate in research, and data collection for the biologists, botanists, geologists, glaciologists, oceanographers and ornithologists onboard. Two decks high, The Aula is the glass-walled venue at the ships' stern when lectures, daily briefings, science presentations take place. There's a 270-degree view that can be seen from everywhere in the Aula thanks to its raked seating. Outside, Finse Terrace, named for Thorsten's only 'grandchild', his daughter Karine's Golden Retriever, guests can survey the scenery warmed by a lava rock 'firepit'.
Perhaps the greatest creature comfort, on these vessels full of them, is the in-ship Hangar. The launching place for the small navy of excursion craft, it allows guests to embark on RIBS (rigid inflatable boats) from inside the ship. On offer are a fleet of Military Pro Zodiacs, 2- seater kayaks, two twelve-seater Convertible RIBs, and even two six-seater Submarines for underwater exploration. Also, part of the Hangar is a glass-enclosed research laboratory. Passengers are invited to learn and participate in the on-board scientists on-going research conducted in this well-appointed space.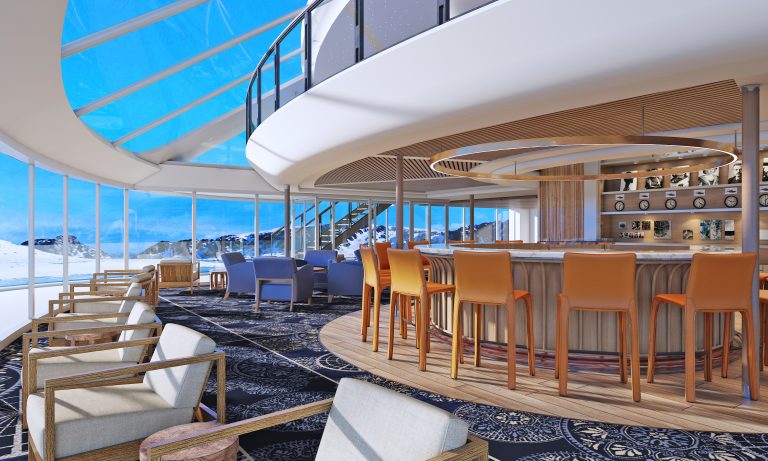 Hagen's great fondness for the sea of course extends into his real desire to minimize the environmental impact of his Expedition fleet. Beyond their being in compliance with every regulatory guideline for every destination where they will sail, Hagen made some bold decisions. Originally planned as LNG (Liquified Natural Gas) powered ships, Hagen discovered that scientific evidence showed that in terms of greenhouse gas emissions, LNG was almost bad as coal. He also determined that helicopters, originally part of the design, were far too disturbing to wildlife. Passengers on Viking will have those submarines instead. The ship's straight bow will reduce fuel consumption. And there's a 'dynamic positioning system' which allows the ship to hover without having to drop anchor and disturb the seafloor
"Journeys to the Ends of the Earth…and closer to home" said the man who also writes his own copy. Viking Octantis will begin her career in January 2022 with multiple sailings to Antarctica through February. She then takes passengers from Argentina to Antarctica and back to Brazil. In August and September her sister ship, Viking Polaris offers adventurers voyages from Tromso, Norway to the western coast of Svalbard, a Norwegian archipelago in the Arctic Ocean. For a truly extraordinary journey Viking Polaris sails from Tromso, north of the Arctic Circle, crosses the Equator to Rio, Buenos Aires and on to Antarctica.
This 44-day voyage begins September 21, 2022. But the most surprising itineraries may be where Viking Octantis will spend its summers. The 77-foot beam of Viking Octantis and Viking Polaris might have been one clue. Viking is coming the Great Lakes. And to navigate the St. Lawrence Seaway and the Welland Canal, the maximum beam is 78 feet. For several years, Viking has been exploring the prospect of sailing the Mississippi to no avail. The Great Lakes provide a very different experience than the mighty Mississippi but one that's highly suitable to Viking's Expedition fleet.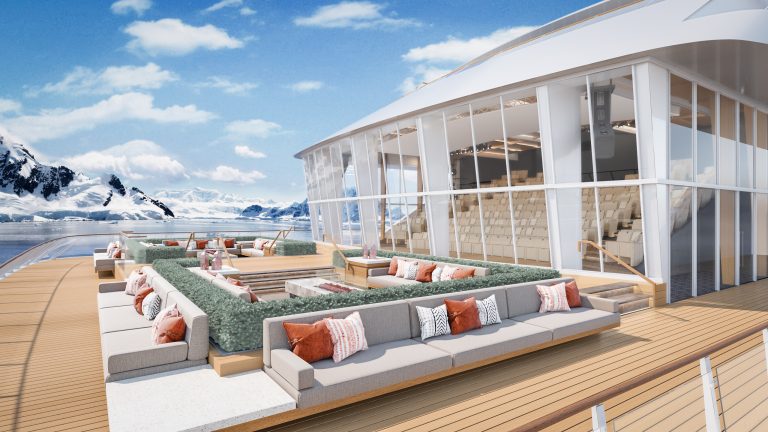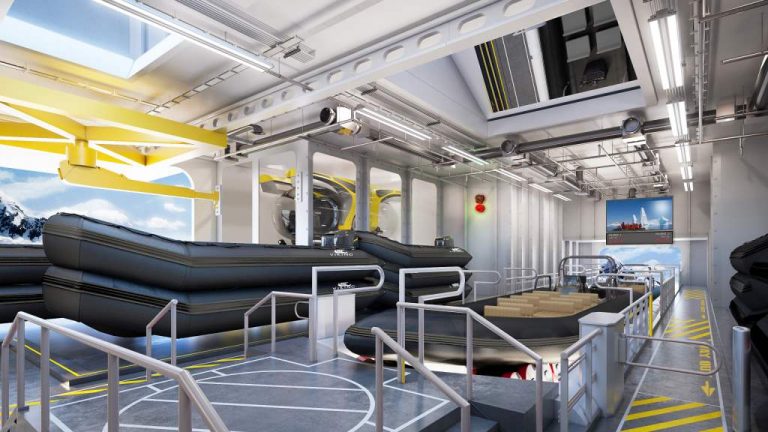 North America's Great Lakes are the largest freshwater ecosystem on the planet. Over 750 miles across with 10,000 miles of coastline, they're twice as large as the state of Pennsylvania. During Viking's sailing the scientists aboard ship will be from the National Oceanic and Atmospheric Administration (NOAA). They'll conduct research on weather, climate and ecosystems. Between the stunning city of Toronto, Viking Polaris will sail to pristine wilderness areas renowned for wildlife, virgin forests, and historic monuments all the way to Milwaukee. From Milwaukee Viking Polaris will sail to Thunder Bay, Ontario visiting Georgian Bay, a UNESCO Biosphere Reserve, frontier towns and exploring indigenous cultures.
Reservations for all Viking Expeditions mentioned are now being accepted at www.vikingcruises.com. To nobody's particular surprise, many itineraries are already sold out. Thanks, no doubt, to those 500,000 past passengers who don't think there's any other way to go but Viking.
More informations and Reviews of Viking Cruises on Cruising Journal.
Photo Credit @Viking Cruises