By Elly Yates-Roberts
01 February 2021
Martin Lister from Fred. Olsen Cruise Lines tells Elly Yates-Roberts why smaller ships and a focus on the ports of call create niche experiences for its passengers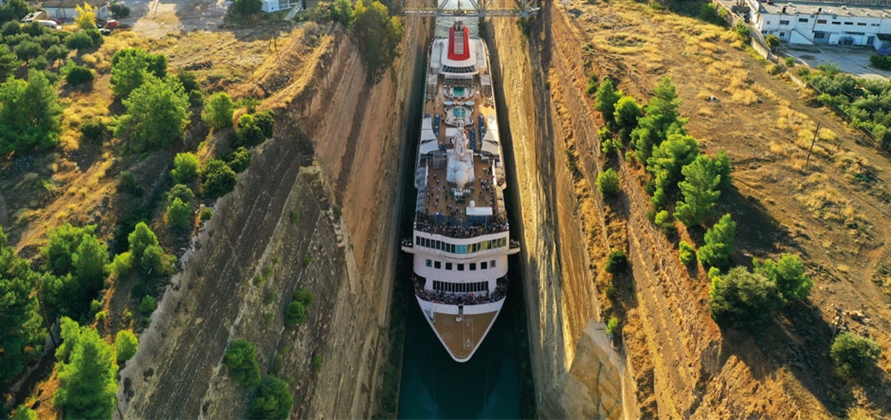 In 2019, Braemar became the largest ship to traverse the Corinth Canal in Greece
The modern cruising experience is filled with entertainment, activity and leisure. Many ships feature multiple dining options, shops to indulge in a bit of retail therapy and other experiences such as spas, swimming pools or even roller coasters. Fred. Olsen Cruise Lines, however, focuses on finding the perfect destinations and ports of call to make its trips truly special.
"We are proud of our smaller ships, and the experiences they allow us to offer our guests," says Martin Lister, head of itinerary planning and destination experiences at Fred. Olsen Cruise Lines. "Many of the larger ships are focused around the activities guests can enjoy onboard. Instead, we have a more traditional approach to cruising which is centred around the destinations we visit; places where our guests can delve into the culture and experience the local nature, for example."
Positive customer feedback suggests that the cruise line's methods are working.
"We ask our guests to rate their experience and time ashore, whether that be on a tour or while exploring independently," says Lister. "We then use this feedback to ensure our itineraries continue to feature destinations that our guests want to visit. From this, we know our most beloved offerings are: St. Petersburg, Russia, for the grandeur and intrigue of venturing 'behind the Iron Curtain'; Sydney, Australia, for its iconic landmarks; and Longyearbyen, Norway, for the remoteness."
Lister has also found that this destination-focused approach and sailing on smaller ships can open up a wider range of locations for visits, enabling guests to enjoy new sights and opportunities.
"The smaller size of our ships also allows us to showcase the beauty of a destination without having to leave the comfort of the ship," he adds. "For example, in 2019, our ship Braemar made history by becoming the largest ship to ever traverse the historic Corinth Canal in Greece.
"Our Norwegian Fjords sailings are also always extremely popular. We can take advantage of the smaller size of our ships, especially Balmoral and Braemar, by sailing scenic routes to show off Norway's dramatic scenery. We use our smaller ships to go off the beaten track, to seek out the most unique and dramatic fjordland scenery. After all, the reason you book a fjords cruise is to see the fjords, right?"
The cruise line considers various other factors when planning its itineraries.
"We offer experience-led itineraries, and the experiences each destination offers are key to that," says Lister. "It's not just a case of going to new ports, or those that are the most profitable – we must also think about the available shore excursions, and whether guests can explore independently. Are there historic sites and points of interests nearby? Can they get something to eat and drink? How far is the town or city centre from where we can berth?
"But the process doesn't stop once the itinerary is confirmed. We continue to research the area to see if new experiences or tours become available, for example. It's not a process, it's a journey."
When cruise ships are able to sail again, things will be slightly different for Fred. Olsen. The cruise line's fleet will be bolstered with two new ships, Bolette and Borealis. With capacity for just under 1,400 guests each, the new vessels are slightly larger than Balmoral, which Lister sees as an opportunity to get creative.
"Their size is great as it means guests have plenty of space onboard and lots of public areas to enjoy, but it is also something we must consider in our itinerary planning," he says. "It may mean that we have to rethink some of the routes we follow with other ships, but it also means we can plan new types of cruises, which, for me, is the most exciting part of the planning process."
This article was first published in the 2020 issue of Cruise & Ferry Itinerary Planning. All information was correct at the time of printing, but may since have changed.
Subscribe to Cruise & Ferry Review for FREE here to get the next issue delivered directly to your inbox or your door.