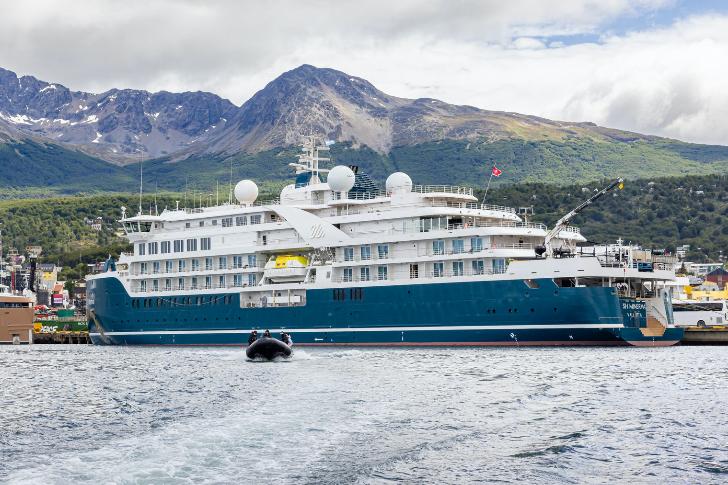 By   James Shillinglaw, Apr 01, 2022
Swan Hellenic just announced its 2022-2023 season cultural expedition cruises of Antarctica, a year after completing its first season exploring the White Continent. The new season will reprise the itineraries that the company operated so successfully as it returned to the oceans this past December, while also adding new routes and more choice.
The new season will be served by two ships, not one, using both the SH Minerva and SH Vega, the cultural expedition cruise pioneer's second purpose-designed five-star ship due to launch this September. The wider-ranging sailings include "Shackleton's Discovery: Antarctica, South Georgia & The Falklands," a 19-day voyage of discovery departing Buenos Aires on Nov. 16, 2022; and the 16- and 19-day "Antarctic Peninsula & South Georgia," departing Ushuaia on Dec. 14, 2022 and Jan. 19, 2023.
The season also features shorter but equally in-depth cultural expedition cruises, including nine-, 10- and 11-day explorations of the Antarctic Peninsula and South Shetland Islands. SH Vega will sail two completely new 18-day early-season itineraries for its maiden cruises, departing Buenos Aires and Ushuaia on the Oct. 19, 2022 and Nov. 5, 200 for the Falklands, South Georgia and Antarctica.
Swan Hellenic also is putting Antarctica on sale, offering 40 percent price reduction on cruises booked before the May 3, 2022. It also is matching specially-reduced single occupancy supplements of just 25 percent for a limited number of cabins.
"We're delighted to unveil the exciting itineraries our experts have created for the 2022-2023 Antarctic season," said Swan Hellenic CEO Andrea Zito. "The eminent onboard lecturers and veteran expedition guides we've selected will reward guests with an unforgettable experience of discovery, seeing what others don't. And our early bird-enthusiasts will be rewarded further with very special savings to celebrate."
Swan Hellenic was relaunched in July 2020 to continue the spirit of cultural expedition cruising the brand pioneered in the 1950s. Building on its British roots, the new company has a global cultural cruising outlook dedicated to providing guests with the opportunity to "see what others don't."
Swan Hellenic's purpose-built ships feature elegant Scandi-design interiors, extensive outdoor spaces and dedicated expedition facilities. SH Minerva and SH Vega,the company's two new five-star Polar Code PC 5 expedition cruise ships with ice-strengthened hulls, respectively launched in December 2021 and arrive in September 2022. Each accommodates 152 guests in 76 suites and staterooms, the majority with large balconies. A slightly larger PC 6 ice-class vessel accommodating 192 guests in the same comfort and style in 96 staterooms and suites will be arriving in early 2023.
All three ships feature three dining venues—the Swan Restaurant, Club Lounge and Pool bar & Grill—and are being built in full compliance with SOLAS Safe Return to Port requirements. Swan Hellenic's itineraries explore the wild landscapes, wildlife, peoples and unique cultures of the world's less travelled regions. Each ship includes a team of 12 expedition guides, expert speakers and lecturers, for a total complement of 120 and 140 crew respectively, offering high staff-to-guest ratios to deliver attentive personal service.
Swan Hellenic is headquartered in Cyprus with offices in London, Dusseldorf, Monaco, Fort Lauderdale (serving the North America market), Hong Kong (serving Greater China and South-East Asia), Sydney (serving Australia-New Zealand) and Copenhagen (serving Scandinavia and Iceland), as well as partnerships serving India and Japan. For more information, call 800-537-6777 or visit www.swanhellenic.com.