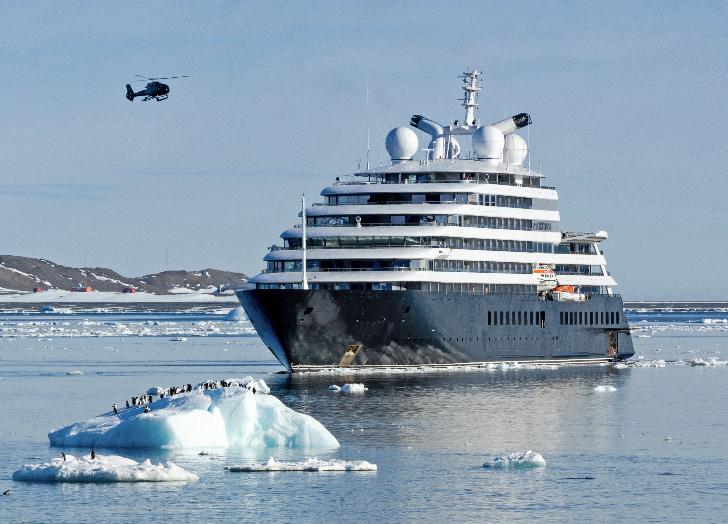 By   Alan Fine, Apr 29, 2021
Scenic Luxury Cruises & Tours has unveiled its 2022/2023 Arctic program for its ultra-luxury Scenic Eclipse. The 2022/23 season will see Scenic Eclipse heading to four new destinations, including the Russian Far East, Japan, Northeast Passage and Alaska. The new destinations compliment Scenic's existing program that takes guests to the heart of the Arctic, discovering the fjords of Norway, Greenland's glaciers and the geology of Iceland. Scenic Eclipse's unique exploration experiences include two state-of-the-art helicopters, a custom-built submarine capable of 1,000 feet, a fleet of Zodiacs, and the expertise of the 20-member Discovery Team that includes geologists, marine biologists, naturalists and glaciologists. Here are some highlights of Scenic Eclipse's 2022/23 season.
Russian Arctic – the Northeast Passage: The ultra-luxury yacht will traverse nine time zones across the top of Siberia and Russia on a 26-day journey through the ice-laden waters of the Northeast Passage. Guests visit remote Arctic islands that are rarely visited by humans, cruise along the planet's migration paths, and observe polar bears and walrus lounging on ice floes. Local cultures play a large part of the trip as guests meet and learn from Chukchi reindeer herders, Inuit fishermen and Russian scientists. Prices for the "Cross the Legendary Northeast Passage" voyage from Anchorage, Alaska to Tromsø, Norway start at $30,529 per person, double, departing August 6, 2023. Guests are encouraged to explore more of Alaska by combining this cruise itinerary with Scenic's seven-day "Wilds of Alaska" luxury escorted land journey, taking in Alaska's frontier towns, Inuit culture and landscapes, starting at $8,800.
The Russian Far East: Scenic Eclipse traces the Pacific Ring of Fire from Alaska to Chukotka (Russia's eastern-most federal subject), south along Kamchatka Peninsula to the Kuril Islands, on an exploration of Siberia's unspoiled eastern coastline. In Chukotka, guests visit the fjords before stepping ashore and exploring alpine lakes on guided walks. Kamchatka, where guests can soak in one of its many hot springs, claims more than 120 volcanoes, many of which are active. In the Kuril Islands, the expert Discovery Team historian reveals abandoned listening posts and submarine bases, Soviet-era fish processing plants and Japanese World War II fortresses. Prices for the 14-day "Jewels of the Russian Far East" voyage from Anchorage to Vladivostok start at $13,376 and departs on May 26, 2023.
Japan-A Journey Through Time: Guests discover Japan on a 12-day voyage that explores a land of ancient well-preserved cultures and histories, from its ancient samurai traditions to its feudal history and prehistoric archaeologist sites, to cutting edge metropolises and large regions of untouched natural scenery. The exploration of Japan's less-visited west coast begins on June 19, 2023 in the seaport of Sapporo. Guests will journey to Hakodate to uncover the Western-style architecture from bygone days, before visiting the archaeological dig of Sannai Maruyama, the largest and best-preserved from the Jomon era. Visits to Maizuru, Kyoto's port on the Sea of Japan, are followed by a sailing to South Korea for a relaxing day in Busan with its urban beaches and street food culture. Fares start at $13,246.
Arctic: Scenic Eclipse is purpose-built for exploring pristine polar destinations like the Arctic region. Guests can soar over the waterfalls of the Norwegian fjords in one of the yacht's two six-guest helicopters, kayak between floating icebergs in Svalbard, discover the Arctic marine-life during a submarine dive in Greenland, and witness the Arctic wildlife in Greenland's National Park, larger than all but 29 of the world's countries. The 15-day "Arctic Islands: Svalbard, Greenland & Iceland" voyage takes guests to Svalbard (Spitsbergen), Greenland and Iceland, taking in the scenery and Arctic wildlife in search of the elusive polar bear. Prices start at $15,020, departing July 11, 2023.
Scenic Eclipse's fleet of Zodiacs, led by its expert Discovery Team, take guests close to the scenery, tundra landscapes and wildlife. Guests can ski, kayak and use stand-up paddleboards for a more active way to get up close and personal with the scenery.
Scenic also is offering special Super Earlybird savings of up to 20 percent on many sailings when fares are paid upon booking. All bookings are covered by Scenic's flexible booking policy, enabling guests to defer their cruise to another travel date or itinerary up to 60 days prior to departure, and come with Scenic's Deposit Protection Plan included or guests can choose to upgrade to the company's new Risk-Free Platinum Protection Plan, providing for changes or cancellations up to 15 days prior to departure.
Inspired by the sleek contours of a billionaire's sailing yacht and custom-built with a commitment to safety. Scenic Eclipse has the highest Polar Class 6 rating and uses custom-built stabilizers that are 50 percent larger than those of other ships to provide greater stability. The GPS dynamic positioning allows the ship to maintain location without dropping anchor onto sensitive water beds. The advanced wastewater treatment systems and the efficient engines reduce emissions, noise and vibrations for minimal disturbances to the marine life environment. For more information, call 844-788-7985 or visit www.scenicusa.com.