By Alan Fine,  May 11, 2021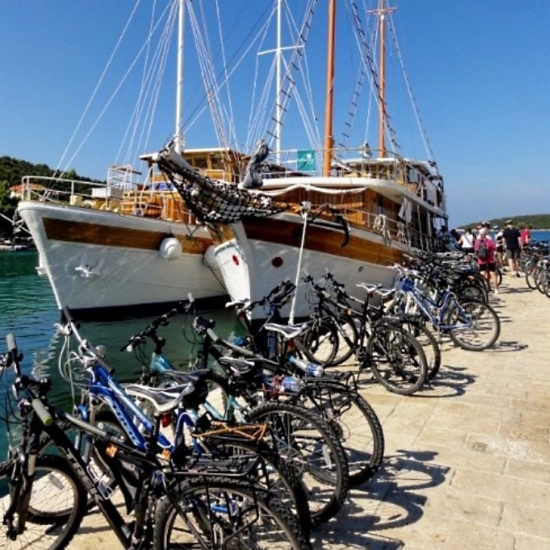 Katarina Line, Croatia's small ship cruise company and winner of Best Croatian Travel Agency DMC award, is launching its 2021 season with promotions that include 20 percent off all 2021 cruises. The promotion also includes a solo traveler discount of 50 percent off on select departures and a last-minute 29 percent off on the company's seven-night May 22, 2021 Premium Bike Cruise departing from Opatija. With a waiver of the single supplement, solo travelers can save 50 percent off the price of a double room.

"Our first departure in April was a great success, confirming that Croatia is 'open for business' again to travelers from all over the world," said Daniel Hauptfeld, Katarina Line's marketing director. "Croatia is among the friendliest and most welcoming destinations in Europe. With all sites and attractions open to visitors with minimal restrictions, this is an excellent time to book a cruise and take advantage of one of the best values of the season."

Katarina Line cruises the Adriatic Sea, with ports-of-call at Croatia's islands and coastal towns. Guests enjoy swimming in secluded coves, inland guided tours to national parks and historic attractions, and the opportunity to experience the country's nightlife and cuisine. The ships, which can hold up to 36 guests, are ideal for special-interest groups, school outings, and multi-generational families. Guests can travel together the entire journey in their own "travel bubble" as they explore Croatia.

For the active traveler, Katarina Line's seven-night Bike Cruises offer some of the healthiest ways to experience Croatia's many back roads and historic small towns. Participants will pedal past vineyards, medieval villages and national parks, enjoy hilltop views and breathe in the air of the Adriatic Sea. Last-minute bookings for the May 22, 2021 Premium Bike Cruise are available at $577 per person, a saving of nearly $235 off the regular price of $812 per person, based on double occupancy. All other departures, including bike cruises, are available at 20 percent off. Spaces are limited, subject to availability, and all prices are based on the current exchange rate for the Euro, which can change.

For the round-trip bike cruise from Opatija, May 22-29, 2021, participants will enjoy a professionally guided tour that starts on Krk Island, exploring coastlines, ancient towns, green forests and bays. The itinerary takes participants to the wall town of Rab on its namesake island; the barren, moonlike island of Pag; Ilovik island in the Losinj archipelago; and Cres, Croatia's second largest island, before returning to Opatija.

The route in Krk winds through fields, olive groves and fig trees. It passes the "living museum" village of Dobrini and the vineyards of Vrnik's field, home to the Žlahtina white wine grape grown only in this area. Riders will explore the island of Rab, considered among the greenest in Croatia, and cycle past the ancient town of Supetarska Draga toward the walled city of Rab. They will also visit Dundo forest nature reserve, which extends over the Kalifront peninsula, and swim in St. Mara bay.

Katherina Line offers a wide range of cycle and cruise programs for all levels of active travelers. These include "Light Bike and Hike," "Walk and Hike," and E-Bikes tours, all available at 20 percent off for 2021 departures, for a limited time.

"Katarina Line is thrilled to welcome our many guests to Croatia to experience its cultural, historical and natural attractions, all while enjoying some of the best values of the season," said Haupfelt.
Katarina Line observes strict health and safety protocols, with frequent and regular cleaning of all common surfaces, including handrails, doorknobs, and light switches, as well as the use of air purifiers in the restaurant area. Cabins are cleaned on a daily basis, upon request, with all surfaces thoroughly sanitized. For more information, call 800-485-3121, email cruises@katarina-line.hr or visit www.katarina-line.com.