Robin West and Bentley Brownfield tell Jon Ingleton what guests can expect from Seabourn's new ultra-luxury expedition ships as the brand strengthens its lofty status in this sector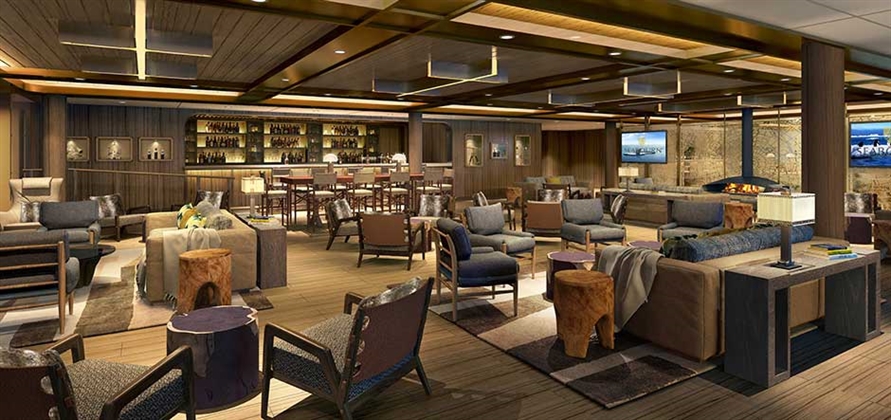 The Expedition Lounge's vapour fireplaces and warm furnishings aim to create a relaxing environment for guests
By  Jon Ingleton
17 June 2021
Seabourn is known for providing guests with ultra-luxury cruising experiences. With the launch of its new expedition ship Seabourn Venture scheduled for December 2021, the brand will be expanding into exploration-focused itineraries. Seabourn guests can expect to see the same level of luxury.
"What we're designing here is not a different brand," says Robin West, Seabourn's vice president and general manager of expeditions. "It's the same brand but a different product; a luxury expedition product with no compromises."
Seabourn Venture will feature many of the onboard spaces familiar to Seabourn customers, including the Colonnade, The Restaurant and Seabourn Square.
"Our idea was always that once a guest walks onboard, they need to immediately recognise that this is a Seabourn ship," says West.
According to Bentley Brownfield, senior design manager at Seabourn's parent company Holland America Group, Seabourn Venture has achieved this by not only delivering similar onboard areas, but also by incorporating design features that give each space a new feel.
"The Restaurant will offer the same level of ultra-luxury service and amazing food, but the room has been interpreted through the lens of snowflakes," says Brownfield. "Throughout there is a repeating theme of abstract, geometric shapes and crystalline structures. For example, the walls in the Dining Room feature bevelled cut glass, which will make the whole room shimmer.
"Another great example is the ceiling. Since we had a restriction on ceiling heights, the main designer Adam Tihany was unable to use a statement chandelier. Instead, he turned the whole ceiling into an abstract chandelier."
Another familiar space, the Colonnade, has also been reimagined.
"Ceilings are very important in cruise ships; they establish thematic elements in the space," says Brownfield. "The ceiling of The Colonnade feels like the architecture of an old wooden hull. It is reminiscent of an upturned boat, which is really fun and offers a subtle nod to maritime history that I think our guests will appreciate. All the spaces onboard have a level of sophistication to them that will unfold over time."
With this new expedition vessel, Seabourn is bringing more focus to the destination. At roughly half the size of sister ships Seabourn Ovation and Seabourn Encore, Seabourn Venture will create new opportunities for the cruise operator.
"Its size has enabled us to focus on design and allow access to more remote destinations across the world," says Brownfield. "We will also have longer sea days, which is why we've created more intimate spaces. I think this is where people will really appreciate the level of thought and consideration that has gone into all the details."
Seabourn expects guests will receive its new luxury expedition offering well.
"We are not entering the expedition market in 2021," says West. "We have been a part of this sector since 2013 when we took Seabourn Quest down to Antarctica for the first time. In our inaugural season, we got the highest ratings and best feedback that we had received in 30 years of operating, so we knew that it was very well received."
From this, Seabourn developed an expedition concept called Ventures by Seabourn, which became the basis for its dedicated expedition vessels. "We've evolved this expedition product over the past eight years, and now that the market is expanding, we are finding ourselves in a very comfortable and experienced position," says West. "This is an evolution in terms of how we move forward with a more destination-focused experience."
And this idea has been echoed throughout the interior spaces onboard.
"We have introduced several new public spaces that are key in delivering the expedition product, for example, the Landing Zone and the Bow Lounge," says West. "The latter is more of an operational area – it leads straight under the bow and provides the best opportunities for wildlife encounters, for example."
The Bow Lounge features a virtual bridge, with screens and consoles that are identical in size and format to those used by the captain and their navigation team. They show a replica of the Electronic Chart Display and Information System being used by officers, the radar and information on what the vessel is doing, such as wind speed and rate of turn. A fourth screen connects to outside cameras that can capture high-quality photographs at distance.
"An expedition vessel is all about delivering exceptional encounters," says West. "As such, we wanted to create a lounge that made our guests part of the operation, part of that exploration experience."
The design of the Bow Lounge also encompasses the themes of navigation and maritime history seen throughout the ship. "The brief was to have monitors that mimic exactly what the captain sees on the bridge, but a room full of TV screens can feel very cold and technical," says Brownfield. "We didn't want that, so the screens are fitted in this retro-inspired housing, which warms up the space.
"The standout feature in here is the custom wood marquetry walls. We have a wall of windows and we've anchored it with this amazing custom-fitted wall which features that same intricate, geometric pattern that is all around the ship."
Also new on Seabourn Venture is the Expedition Lounge.
"All of the spaces onboard have been designed with this idea of maritime exploration and discovery, which passengers will see in statement features as well as little details," says Brownfield. "The Expedition Lounge is really a focal point for the day's operations, so it has been created to encourage guests to relax, share memories and photographs, and really indulge that cosy, warm ski lodge feel.
"With this in mind, the room has two vapour fireplaces, behind which is a custom glass mural wall, handmade by artists in Paris. It is just astounding; it is an abstract map tracking different explorers over time. It's probably my favourite space on the ship. Traditionally Seabourn Square has been the living room onboard our vessels, but I think the Expedition Lounge will become part of that experience for our guests. It really is the soul of the ship."
Natural light and views to the ship's surroundings were also an integral part of the design process of Seabourn Venture.
"When we first started talking about this vessel and deciding what we wanted for it, one of our itinerary planners said 'a view to the world' and that phrase has stuck throughout the project," says West. "Many of the onboard spaces, including the Constellation lounge and the gym, all feature floor-to-ceiling wrap-around windows almost offering 270-degree views. Even the sauna offers these expansive views, which has such an unexpected wow factor.
"We also designed the vessel with approximately 30,000 square feet of open deck space. That's what an expedition ship's about – getting out onto the outer decks, engaging with the environment and seeing the wildlife sightings. All that light coming in was planned to deliver that 'view to the world'."
This article was first published in the 2021 issue of Cruise & Ferry Interiors. All information was correct at the time of printing, but may since have changed.