Imagine a ship that runs on battery power, with luxury interiors, onboard science labs and first-class cuisine. Turns out dreams can come true…
One day in 1882, a 10-year-old Roald Amundsen wrote in his diary: "In my imagination, I created an electric ship that could break through all kinds of ice – that nice and elegantly, fearful and irresistible, could sail through the Arctic oceans."
Amundsen grew up to be the famous polar explorer who pipped Captain Scott to the South Pole. His electric ship, however, remained a dream. But now, 137 years later, Norwegian line Hurtigruten has made it a reality.
Named in the great man's honour, MS Roald Amundsen is the world's first hybrid-powered cruise ship. Four years in the making, she recently completed her inaugural voyage, sailing into her home port of Tromso, in northern Norway, on MS Roald Amundsen breaks through the ice – and into a new era of green power battery power alone. It was a historic moment in the cruise industry – but, says Captain Kai Albrigtsen, "The ship was silent. No one on the bridge said a word – it was so emotional as we sailed in with no emissions."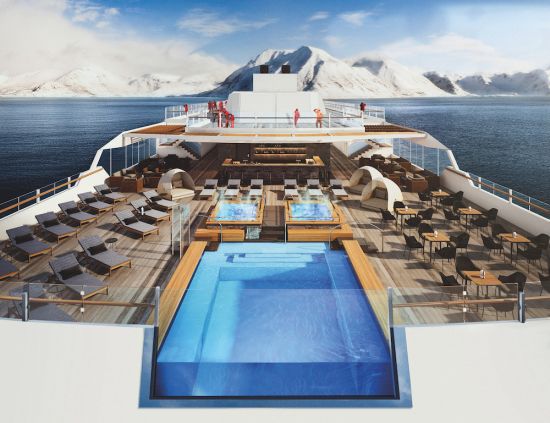 Saving our seas
MS Roald Amundsen is powered in the same way as a hybrid car – she does have conventional engines, but these are supported by battery packs to reduce emissions. And for short periods, the ship can sail on batteries alone.
Itineraries will include the Arctic Circle, the Norwegian coastline and Antarctica – precious environments where Hurtigruten's crew have seen the effects of damaging climate change for themselves.
"It does something to you to see the changes the world is going through,' says Hurtigruten's CEO, Daniel Skjeldam. "Our crew have seen the melting glaciers in Svalbard and Greenland, our expedition teams have seen the plastic pollution in our oceans."
It's because of these passionate people that science, sustainability and exploration are the backbone of the new ship. Taking the place of a traditional auditorium or casino, Roald Amundsen boasts a science centre so advanced that one researcher is even finishing her PhD there.
"We want to utilise this ship as a research platform for scientists, while taking our guests on journeys they would never be able to make on any other cruise ship," says Hurtigruten's VP of expeditions, Karin Strand.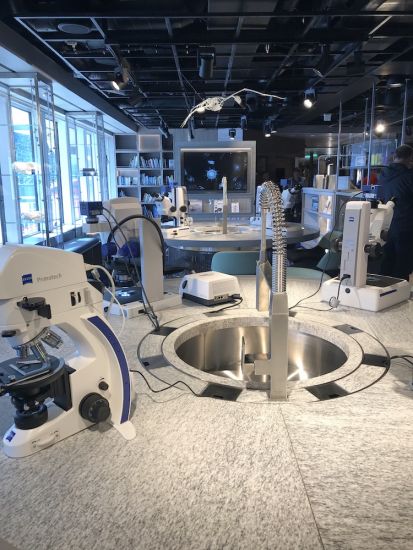 Yet hybrid technology is only one aspect of Hurtigruten's commitment to protecting the oceans. More than 10 years have passed since the company abandoned the use of heavy fuel oil, and it has been busy refitting older engines to use biogas and LNG (liquefied natural gas). Recently the line brought in a fleet-wide ban on single-use plastics.
"This is the future," says Daniel Skjeldam. "We want other cruise lines to look at us and believe things are possible."
Travelling in style
Its environmental credentials may be top-notch, but that doesn't mean Roald Amundsen can't be luxurious, too. "This is the world's most beautiful expedition vessel," says Captain Kai – and he may well be right. Guests will stay in Scandi-chic suites, with sweeping balconies and bubbling Jacuzzis. Open the birchwood wardrobe and there's a special machine for drying wet boots. Elsewhere on board, well-stocked wine racks nestle between tender launch rooms and a 57ft screen displaying findings from underwater drones.
In a Hurtigruten first, the new ship also champions wellness, giving passengers the chance to recover from energetic sea- kayaking and wildlife-spotting trips with three massage rooms, a sauna overlooking the ocean, and an infinity pool.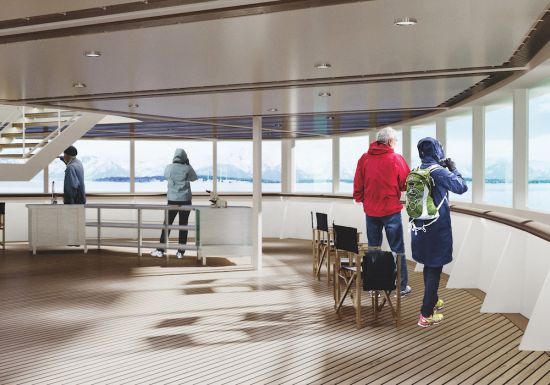 Expeditions are hungry work, and the line has upped its food and drink offering with three restaurants: Aune Main Dining, street-food inspired Fredheim, and haute-cuisine Lindstrom, which is named in honour of the chef who fed Roald Amundsen himself. Here, guests will enjoy the finest Norwegian produce, such as king crab and salmon, surrounded by artwork created by none other than Queen Sonja of Norway.
"We hope this ship will set a new standard, and show what is possible," says Daniel Skjeldam. And with a second hybrid sister ship, MS Fridtjof Nansen, on the horizon for 2021, this truly is the beginning of a new era in cruising.
At a Glance
Engine: Battery/fuel hybrid
Tonnage: 20,889 GT
Cabins: 265
Passengers: 530
Destinations: Norway, Arctic, Antarctica, Americas
Restaurants and bars: 4
Get on board
17-night 'Alaska, British Columbia' cruise aboard MS Roald Amundsen, round trip from Vancouver via Inside Passage, departing 1 August 2020, from £8,352, hurtigruten.co.uk
Isabella is World of Cruising's staff writer, and has a penchant for travel, food and drink (in particular, wine). She's began her career as a drinks writer before moving on to lifestyle and travel, and is now full steam ahead with cruising. Growing up in Cape Town the South African city will always be her favourite destination, but right now she's besotted with Tel Aviv – the best city beaches around, fascinating history, incredible food and the friendliest people.