How to Cruise the Galápagos in Style on the Luxury Yacht Integrity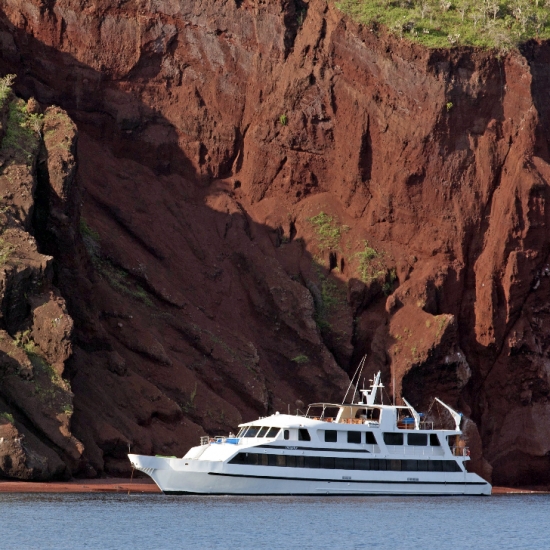 By   James Shillinglaw, Mar 05, 2021
Insider just got back from a wonderful four-day cruise aboard Metropolitan Touring's Isabella II, which confirmed just how amazing a trip to the Galapagos can be. While other cruise lines are not sailing due to the global pandemic and the U.S. Centers for Disease Control's edict mandating a phased reopening of cruising, Metropolitan Touring is one of the only ways to explore the Galapagos. Now, however, there's another way, albeit on a much smaller, even more intimate luxury yacht.
Guests can discover the natural wonders and remarkable biodiversity that inspired Charles Darwin with a private cruise through the Galápagos aboard the luxury yacht Integrity. Operated exclusively by leading tour operator INCA (International Nature & Cultural Adventures), Integrity is perfectly sized for friends and family to explore one of the world's most unique destinations in style, with a new Exclusive Use option well suited to this current moment granting private use of the full yacht for groups of four to 10 travelers to safely share an adventure they may never forget.
INCA has over four decades of cruising expertise throughout the destination making it a perfect operating partner for Integrity. INCA's highly educated naturalist guides are essential to the Integrity experience, each skilled at sharing scientific and historical knowledge with vivacity and humor to keep guests enthralled. The yacht operates under constraints devised by the Galápagos National Park Service to protect the biodiversity of the islands.
Integrity's signature nine-day Galápagos Adventure offers an exclusive eight-day cruise itinerary sailing east-to-west or west-to-east instead of the traditional north-to-south route through the archipelago. INCA says this is a better way to reveal iconic sites, offer maximum exploration time, and open guests' eyes to hidden gems they would otherwise miss.
Integrity's eastbound route, for instance, starts in the highlands of Santa Cruz Island, where travelers see the wild habitat of giant tortoises, bright Yellow Warblers, Darwin's finches, and famed Woodpecker Finches. It ends with snorkeling amid small sharks, sea lions and Galápagos penguins off a white-sand beach on Sombrero Chino. In between are explorations of classic and uncrowded sites with guided activities, including shore visits, lectures, watersports, and hikes.
"Our view for Integrity has always been to provide a flawless program filled with experiences that are worth taking, and to offer our guests the finest vessel and talent to ensure they want to come back for more," says Bill Roberson, owner and CEO of INCA, who launched the company in 1976 after being awestruck by his first visit to the Galápagos. "We're all about crafting authentic adventures, exceeding expectations, and delighting travelers with personal touches and unexpected treats that deliver their travel dreams," Roberson says.
Built in the U.S. by Gulf Motor Yacht, Integrity measures 141 feet from bow to stern with a beam of 24 feet, cruising speed of 12 knots, and space for 16 guests, a crew of 10, plus a naturalist guide. Integrity is also one of the few yachts in the Galápagos with stabilizers making for smooth cruising throughout the archipelago.
Guests are accommodated in nine staterooms available in four categories, including the Owner's Suite spanning the full width of the main deck, with 350 square feet of space, including a sizable sitting area and large picture windows on both sides. In-cabin comforts across all staterooms include mini-fridge, entertainment center with flat-screen TV, and en-suite bathroom with walk-in shower and Cedrela hardwood vanity with porcelain vessel sink, plus satellite phone, table and chairs, plush bathrobes, and more. Wi-Fi Internet access is available from the yacht's main salon and dining room.
Onboard dining offers gourmet meals created from locally sourced ingredients, and most special diets can be accommodated. The bar features a selection of local wine and spirits and no corkage fee should guests bring their own.
Protecting the natural wonders of the Galápagos is a priority for INCA. Integrity was the first yacht cruising the archipelago with its own wastewater treatment system, a six-stage unit capable of processing 2,000 gallons per day, treating black and gray water and producing sterile effluent for disposal. Meanwhile, the crew separates all waste into organic, recyclable, non-recyclable, and hazardous material before disposal, and staff receives ongoing training in environmental issues to preserve the biodiversity of the islands.
INCA also offers an array of extended journeys with extra days of travel built around Integrity's signature nine-day Galapagos itinerary. The 11-day Galapagos Safari, for instance, includes two full days of active exploration of the highlands, beaches, and trails of Santa Cruise Island.
The 14-day Galapagos and Amazon Jungle adventure includes overnight stays at luxury eco-lodge in Amazonian Ecuador, with opportunity to explore the jungle via miles of hiking trails, dugout canoe, and canopy walk. The 17-day Peru and Galápagos starts with a tour through the heart of Inca Empire in Peru, traveling from the country's culinary capital, Lima, to the Sacred Valley of the Incas and the temple-fortress/village of Ollantaytambo, before a train ride to explore the famed mountaintop Inca citadel Machu Picchu.
For more information or to make reservations for a Galápagos cruise onboard the luxury yacht Integrity, contact INCA at 510-420-1550, email info@inca1.com or visit www.integritygalapagos.com.