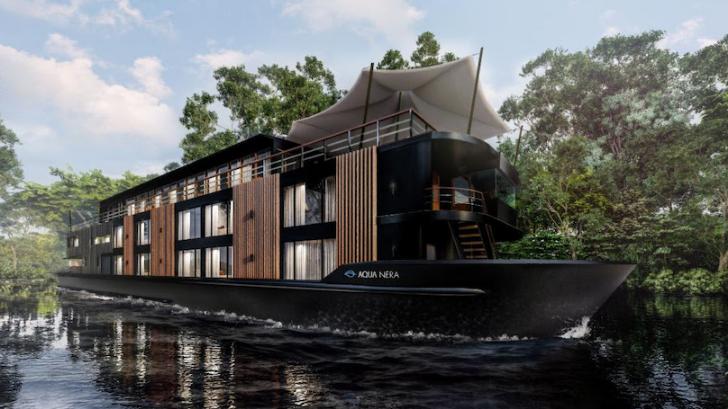 By   James Shillinglaw, Apr 30, 2021
Aqua Expeditions' new custom-built 20-suite river vessel, Aqua Nera, will make her maiden voyage on the Peruvian Amazon on June 12, 2021, according to Aqua Expeditions' founder and CEO Francesco Galli Zugaro.
With U.S. tourism to Peru now reopened, the Aqua Nera will begin a series of three-, four- and seven-night expeditions from its home port of Iquitos. Built in Vietnam by Noor Design, the Aqua Nera was transported in the fall of 2020 from Ho Chi Minh City to Belem, Brazil. She then sailed the full length of the Amazon River to Iquitos, a 12,350-mile journey.
Special founder-hosted departures, accompanied by Galli Zugaro, are set for July 3-6, July 3-10 and July 6-10. Award-winning Peruvian chef Pedro Miguel Schiaffino, who curates the cuisine for all Aqua Expeditions' Amazon explorations, will be aboard the Aqua Nera for the inaugural June 12-15, June 12-19 and June 15-19 departures.
"Sailing alongside sister ship Aria Amazon, Aqua Nera will grace the mystical Peruvian Amazon River with unparalleled contemporary luxury, a bold design aesthetic, and an engaging program of daily excursions focusing on wildlife and local culture," says Galli Zugaro. "With a smaller ship capacity of 32 guests, Aria Amazon is perfectly suited for private charters, and family gatherings and reunions in ultimate privacy and comfort."
With the introduction of the Aqua Nera, Aqua Expeditions strengthens its commitment to sustainability in the region, prioritizing the selection of recyclable innovative materials and integrating large solar panels into its design.
COVID-19 protocols will be maintained aboard Aqua Expeditions ships. To board flights to Peru, U.S. travelers need to show a negative COVID-PCR result from a test taken within 72 hours of departure. After arrival in Peru, international travelers must take a COVID-antigen test, which can be done either after landing at Lima Airport or arranged at their Lima hotel. After their expedition, Aqua Expeditions passengers will return to Lima for their COVID-PCR test to be taken within 72 hours of their flight home.
"Building and launching the Aqua Nera amid the pandemic has been a great challenge," said Galli Zugaro. "We are proud and excited to unveil a best-in-class vessel that has attained the highest standards in navigation, safety, technology, and design. With the resumption of international travel to Peru and the encouraging progress of vaccine rollout in the U.S. we are looking forward to welcoming guests onboard for unforgettable adventures."
Aqua Expeditions explores the world's most wildlife- and culture-rich destinations aboard best-in-class vessels of stylish contemporary design. The company sails to remote destinations with minimized human interaction and secluded from crowds. It offers five-star itineraries, a highly exclusive 1:1 crew-to-guest ratio with personalized service, cuisine crafted by acclaimed chefs, and flexible, expert-guided adventure activities and excursions for all ages, with a maximum of 30-40 guests per ship. In addition to the Amazon, Aqua Expeditions operates river explorations on the Mekong (Cambodia and Vietnam), and coastal yacht voyages to Komodo National Park, Ambon and the Spice Islands, as well as Raja Ampat (East Indonesia). For more information, visit www.aquaexpeditions.com.