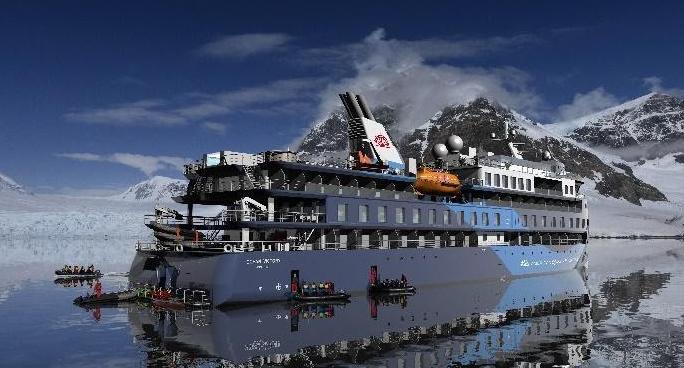 By   James Shillinglaw, Feb 04, 2022
American Queen Voyages, part of Hornblower Group, announced the expedition team for the inaugural Alaska season of its Ocean Victory. The new 186-guest vessel will sail between Vancouver, B.C., and Sitka, Alaska, on 12- and 13-day cruises beginning May 7, 2022, marking the company's entry into expedition cruising.
The team, led by Director of Expedition Peter Szyszka, who was announced last year, will create unique expedition experiences for guests working closely with the award-winning American Queen Voyages shore excursions team, researchers from California Polytechnic State University, naturalist interpreters, and Alaska Native and First Nations leaders.
"This skilled team of expedition leaders we've assembled for Ocean Victory's inaugural season provides a wealth of experience in Alaska's wilderness as well as a deep passion for the destination itself," said Szyszka. "Our team has been drawn to American Queen Voyages to share Alaska's beauty up close through encounter travel experiences with this world-class expedition vessel." American Queen Voyages' Ocean Victory inaugural expedition leadership team includes:
Pamela Navis (Expedition Manager): Navis has more than 40 years of professional experience in the maritime industry. She has overseen expedition operations and product development in the waters of Southeast Alaska, Pacific Northwest, Canada, Hawaii and Central America. Navis is a certified U.S. Coast Guard 100-ton boat captain who has dedicated her life to all aspects of the sea, which has led her to various adventures including fishing from an Alaskan troller, restoring vintage vessels and being a guest speaker at the Wooden Boat Festival, sailing around the Hawaiian Islands, and guiding and captaining on small expedition vessels in Prince William Sound and Southeast Alaska. Her personal pursuits never take her far from the water either since she is an avid sailor, surfer, sea kayaker, scuba diver and proud captain of a 15-foot vintage runabout named Opakapaka after her favorite Hawaiian fish.
Jessika Picinich (Expedition Leader): Picinich joins the Ocean Victory team after delivering wilderness experiences for guests in Southeast Alaska, Hawaii, Moab, Arches National Park, Zion National Park and the Sea of Cortez. She has a strong passion for Alaska, where she has led shipboard expeditions over multiple seasons, including sea kayaking, bushwhacking, snorkeling and skiff tours with an emphasis on her personal passions of geology and natural history. Holding a Master of Science from University of Miami, she is also a skilled photographer with special interests in both underwater stills and drone photography.
Liz Gifford (Expedition Leader): Gifford is a passionate environmental educator and photographer with extensive expedition experience in the wilderness terrains of Alaska, Antarctica, Greenland, the high Canadian Arctic and Svalbard, Norway. She has served as lead naturalist for a non-profit outdoor educational program in Juneau since 2016 and as a sea kayak guide and expedition photographer in Antarctica since 2012. In addition, she has worked as a USFS wilderness ranger in Southeast Alaska, a sea kayak and yoga instructor, and as an expedition guide. A graduate of the University of Alaska Southeast with a master's degree in teaching and a certificate in Outdoor Leadership Skills, she enjoys hunting, harvesting and backcountry skiing from her home trails when she is not kayaking and leading adventures.
The American Queen Voyages Ocean Victory expedition team is led by Szyszka who has more than two decades of expedition experience across the globe including over 60 journeys in Antarctica. He brings a depth of knowledge of the new Ocean Victory vessel, overseeing the 2019 build and fit-out of expedition areas of the Greg Mortimer, a sister ship featuring a unique X-Bow design. Szyszka has played a key role in program development and delivery for multiple leading expedition brands. An expert divemaster and Zodiac captain trainer, he has also overseen kayaking, snorkeling, diving, expedition landings, skiing, snowshoeing, camping, mountaineering and photography programs throughout his career.
Created for intimate access with an innovative X-Bow design, Ocean Victory will sail 12- and 13-day journeys through the less-traveled regions of Alaska's Inside Passage led by a seasoned expedition team. Like-minded explorers will deploy stable double sea kayaks and Zodiacs with expedition guides, view wildlife from sliding observation platforms, participate and witness marine research by California Polytech University students in real-time and have engaging cultural experiences with Alaska Native and First Nation leaders.
Itineraries will feature destinations that larger ships cannot access, including Baranof Island's sparsely uninhabited eastern coast. Ports of call include: a pre-cruise hotel stay in Vancouver, B.C.; Canadian Inside Passage; Fiordland (Kynoch Inlet); Ketchikan; Metlakatla on Annette Island; Misty Fjords National Monument; Wrangell and the salmon rich transboundary Stikine River; the Waterfall Coast of South Baranof Wilderness; Petersburg/LeConte Glacier in the Stikine-LeConte Wilderness; Tracy Arm and Ford's Terror Wilderness Area including South Sawyer and Dawes Glaciers; the village of Kake on Kupreanof Island; Frederick Sound; Five Finger Lighthouse; and Sitka, AK. Sailings are available May-Sept. 2022. For more information, visit www.AQVoyages.com.