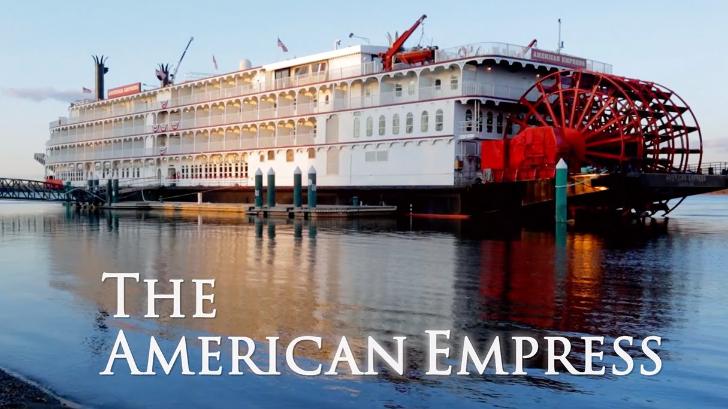 Alan Fine, Jun 27, 2019
American Queen Steamboat Company announced a new lineup of optional outdoor adventure experiences for guest on the American Empress, which include zip lining, jet boating, hiking and more on the Columbia and Snake Rivers. American Empress offers six-, seven- and nine-day voyages between Vancouver, Wash., and Clarkston, Wash., with ports of call including Astoria, Wash.; Stevenson, Wash.; The Dalles, Ore.; and Richland, Wash. Here is a selection of 2019 adventure excursions on the American Empress.
Zip Lining Adventure: Under the guidance of Highlife Adventures, guests are invited to explore the forests and mountains of Oregon near Astoria from the treetops. This family-friendly activity features a course with eight lines. All ages and skill levels are welcome and extreme adrenaline junkies can zip over lakes and even choose to drop into the water. The experience lasts four hours and is priced at $139 per person.
The Ultimate Pacific Northwest Experience: Starting in Stevenson, this full-day adventure (see below for a shorter version) consists of a trip to Oregon's tallest waterfall, Multnomah Falls; a tour of the Bonneville Lock and Dam; Mt. Hood's "Fruit Loop," a 35-mile scenic route filled with local orchards, vineyards and fruit stands, an all-American local lunch in Parkdale Grange; and a tour of the historic Timberline Lodge. The tour lasts eight hours and 30 minutes and is priced at $149 per person. Guests looking for a shorter excursion can select to explore only the Multnomah Falls and Vista House, including the Old Scenic Highway, which lasts three hours and 30 minutes and is priced at $69 per person.
Catch of the Day-Fishing on the Columbia River: Started in The Dalles, guests will have the chance to catch wild Salmon with a professional fishing guide. If qualified fish are caught, the guide will filet them so the American Empress' executive chef can prepare them as the evening entrée. The ticket price includes an Oregon Fishing License and fishing equipment. The experience lasts five hours and is priced at $249 per person.
Vintage America with Optional Private Plane Ride Enhancement: From The Dalles, guests visit the Western Antique Aeroplane and Automobile Museum, then have a 45-minute private ride in a Cessna aircraft over Mt. Hood, with glimpses of Mt. Adams, Mt. Rainer, and on a clear day, a peek at Mount St. Helens. The tour lasts three hours and 30 minutes and is priced at $299 per person with a two-passenger minimum and a three-person maximum.
Hells Canyon Scenic Jet Boat Experience: Starting in Clarkston, and exclusive to the American Empress, the Hells Canyon Experience offers a look at North America's deepest gorge. Using U.S. Coast Guard approved jet boats, guests are transported along the Snake River into Hells Canyon. They visit the Idaho Garden Creek Preserve, owned by the Nature Conservancy in Hells Canyon. The tour lasts four hours and 45 minutes is priced at $149 per person.
Adventure Pass: This is an overall bundle of tours, including the Zip Lining Adventure, Vintage America with Optional Private Plane Ride Enhancement and the Hells Canyon Scenic Jet Boat Experience, priced at $575 per person.

Fares on American Empress begin at $1,199 per person. All sailings include a one-night, pre-voyage hotel stay, free hop-on hop-off shore excursions in all ports, wine and beer with dinner and other amenities. For more information, call 888-749-5280 or click on American Queen Steamboat Company.