By
Ben Groundwater Aug 20, 2021
There's adventure to be had, right near Australia. Though many travellers have never even heard of the Sub-Antarctic Islands, this amazing area is a treasure trove for wildlife lovers and adventurers, a part of the world that has been dubbed "the Galapagos of the Southern Ocean", so rich is it in diversity and wonder.
And it's within reach. The Sub-Antarctic Islands – the likes of the Snares, Enderby and Macquarie Island – lie just south of New Zealand.
"The remoteness of these islands makes them a refuge for wildlife in an otherwise very big Southern Ocean," says Sandrine Erwin-Rose, PONANT's Expedition Operations Manager, and an expert on this area. "The wildlife that calls these islands home are often endemic to that particular island and therefore found nowhere else on Earth, making them very special indeed.
"The PONANT experience in the Sub-Antarctics is one of genuine expedition. We visit some of the world's most remote and therefore least visited places, and our guests are completely immersed in the wilderness experience. Stepping foot on these islands feels like walking into a wildlife documentary."
The Snares
This small group of islands is unique even in the sub-Antarctic region: these are the only forested islands without any introduced mammals, which makes the Snares a wonderous haven for wildlife such as seabirds and penguins. More than two million sooty shearwaters breed here during the summer months.
The Snares are also home to an endemic penguin species, the Snares crested penguins, of which there is a colony of more than 35,000, as well as fur seals and sea lions. Though these islands are protected, and therefore landings aren't permitted, the Zodiac boats on board the PONANT expedition vessel mean visitors are able to get in close to view the incredible avian colonies, with guidance from true experts.
Enderby Island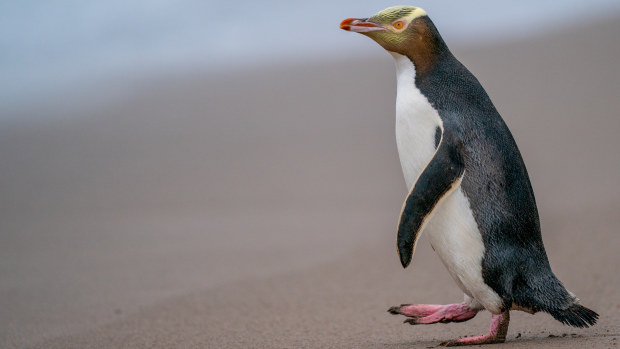 At Enderby Island, the northernmost of the Auckland Islands, it's time to go ashore and have a genuinely incredible experience, up close and personal with endemic wildlife. "The hike on Enderby Island starts with New Zealand sea lions on the beach," says Erwin-Rose. "The world's rarest penguins, the yellow-eyed penguins, can be seen making their way to the ocean from the rata forest. Auckland Island tom-tits accompany guests along the boardwalk, all while southern royal albatrosses soar overhead."
Macquarie Island
Macquarie Island, UNESCO heritage-listed, and a place of unique natural diversity. "Macquarie Island is best appreciated by simply sitting on the beach at Sandy Bay and watching the animals go about their business, completely oblivious to our presence," says Erwin-Rose.
"Although guests are required to follow strict protocol and not approach the wildlife. The animals have little fear of humans and it is not uncommon for curious penguins to make their way over to investigate a boot or bag and guests are able to see them up close."
Campbell Island
Is there a more inspiring sight in nature than an albatross in flight, these huge birds with wingspans up to three metres soaring through the sky? And that is something you are very likely to see on Campbell Island, the southernmost of the Sub-Antarctic Islands, which is home to numerous species of albatross, not to mention a spectacular floral display of megaherbs.
Antipodes Island
This is a volcanic island group to the south-east of New Zealand that once again is known for its amazing array of seabirds, as well as rare penguins, and two species of parakeet. The highlight here is the chance to spot an endangered Antipodean albatross, one of the largest flying birds in the world. These protected islands are the perfect place to join a Zodiac expedition to explore the coastal environment and view nesting bird colonies.
Ulva Island
Known in the Māori language as Te Wharawhara, Ulva Island offers something different to the Sub-Antarctics. The island was never logged and was cleared of introduced pests in 1997, so it's become something of a haven for birdlife that you won't find anywhere else on this journey. We're talking the likes of rare Steward Island wekas, South Island saddlebacks, Stewart Island robins and more.
Milford Sound
The experience of visiting the Sub-Antarctic Islands is contrasted nicely by a journey along New Zealand's stunning southwest coast, beginning with the most famous spot, Milford Sound. "These sounds and fiords are the result of unique geological formation and ancient glaciation," explains Erwin-Rose. "The sounds' grandeur evoke a sense of humility, with one feeling very small next to the towering cliffs and waterfalls.
"Sailing through these sounds, you're able to fully appreciate the beauty of the area from the comfort of their balcony or anywhere on the outer decks, as the waters are mostly sheltered from prevailing winds."
Doubtful Sound
As with Milford Sound, Doubtful Sound is part of Fiordland National Park, a UNESCO world heritage site. One of the key differences here, however, is the Doubtful is nowhere near as well known, and enjoys a secluded serenity that has seen it dubbed the "Sound of Silence". The scenery visible from the deck here is amazing, with several towering waterfalls and plenty of rocky inlets to explore and wonder at.
Dusky Sound
The southernmost sound in Fiordland National Park, Dusky Sound is another place of sheer cliffs, thundering waterfalls and glassy bays. On small boat expeditions, you can spot the world's most southern population of bottlenose dolphins, the rare Fiordland crested penguin, New Zealand fur seals lazing on the rocks, as well as see Astronomer's Point, where Captain Cook's 1773 expedition spend several weeks conducting experiments.
Then, as you edge towards the conclusion of your Sub-Antarctic journey, luxury awaits aboard PONANT's small ship. While your excursions have been full of wonder and delight, the experience continues with world-class fine dining, a day spa and a full butler service.
Visit https://au.ponant.com to learn more about PONANT's 2022 New Zealand's Subantarctic Island luxury expedition itineraries. Contact your preferred Travel Agent or PONANT on 1300 737 178 (Australia) or 0800 767 018 (New Zealand) or email reservations.aus@ponant.com
Sponsored by Ponant