OLGA DANYLENKO/SHUTTERSTOCKNote: We know COVID-19 is impacting travel plans right now. For a little inspiration, we'll continue to share stories from our favorite places around the world so you can keep daydreaming about your next adventure.
We're spoiled for space here in the United States. Our metroplexes sprawl out like a Floridian on a beach towel. We've got airports the size of San Francisco and enough protected lands to fill Peru. Texas could swallow France in one gulp, presumably with a thick coating of barbecue sauce, before begrudgingly being gobbled up by Alaska twice over. For spacious skies, indeed.
But for the purposes of travel, bigger isn't always better. Assuming you're not rolling in unlimited income and PTO these days, it's virtually impossible to say you've truly "done" all 50 of the United States, all 10 Canadian provinces, or all 34 of whatever China's got going on. You'll fly 20 hours all the way to Australia and barely scratch the surface of what it has to offer. A big trip to a big country means picking a few choice spots and, inevitably, leaving something great on the table.
So what about the tiny countries? The underdogs? Small nations can pack just as much verve as you'd find in countries 10 times their size — and you'll leave feeling like you've actually done a place to satisfaction. We tapped our army of global travelers to give us the lowdown on some of the best destinations for big trips in small packages. Laid-back Bratislava is one of Europe's best values. | VICTOR MALYUSHEV/UNSPLASH
Slovakia
How tiny it is: 18,932 square miles
Or, roughly: Vermont spooning New Hampshire
Put simply, Slovakia is a beautiful bargain. It offers the best of romantic Europe — rolling countryside, a chilled-out capital city, ghostly castles, Renaissance churches, divine food, period-perfect museums — for a third of the price of nearby destinations. The country inherited some of the best aspects of its five neighbors, enjoying Czech-style brewing, Polish diligence, Austrian architecture, Ukrainian good looks, and Hungarian stews.
Vast forests and mountain ranges dominate this wee country. Passing through its knobby High Tatras region, it seems as if every 10th peak has a 14th-century medieval castle upon it. The big daddy of these eerie sites is Spiš Castle, central Europe's largest medieval fortress compound. First built in 1209, it was wrecked by 13th-century Tatars, and rebuilt in the 15th century. Partially in ruins, it dominates the landscape from miles away. It made me ponder phantoms, and life before social media, in all their forms. – Bruce Northam
Inside Singapore's next-level airport. | VUITTON LIM/UNSPLASH
Singapore
How tiny it is: 278 square miles
Or, roughly: New York City
Forget about the Singapore sling — that syrupy cocktail is for touristy n00bs only. Locals prefer sipping crisp, innovative cocktails atop a gleaming skyscraper or gulping down an ice-cold Tiger Beer over their sixth meal of the day. Seriously, people here love to eat. The city-state is home to some of the world's most celebrated street food, yet it's also an epicenter for boundary pushing, high-end restaurants. Singapore's intersection of cultures — from the Indigenous Malay to Chinese and Indian immigrant groups — fuse together for a culinary scene like nowhere else. Arrive hungry.
Singapore is also remarkably green, both in the literal and sustainable sense: You'll find rooftop farms, hotels with zero carbon footprint, and brilliant food waste solutions at work. Stroll through the massive urban green space, Gardens by the Bay, and take in the grove of SuperTrees — towering, solar-powered arboreal structures that generate power for these otherworldly gardens. At the futuristic airport, the world's largest indoor waterfall runs on recycled rainwater and draws visitors who aren't even flying anywhere. — Hannah Bae and Hillary Eaton
MORE:A full itinerary for your Singapore escapades
All cliches welcome on Tahiti. | MARTIN VALIGURSKY/SHUTTERSTOCK
French Polynesia
How tiny it is: 1,609 square miles
Or, roughly: One Rhode Island, if Rhode Island got shattered into little pieces and scattered around the Pacific
When people talk about experiencing the "real version" of a tropical destination, they're quick to throw shade to tourists staying in overwater bungalows. Well, joke's on them, because French Polynesia invented these dreamy lodgings. So if you want to get all fancy in Bora Bora, feel free to alternate between said bungalow and its adjoining white sand beaches for an "authentic" experience. Bring on the room-service burgers and pina coladas.
But here's the flip side: You're very likely flying into the Tahitian capital of Papeete, and if you're jumping on a boat or seaplane right after receiving your welcome lei, you're doing it wrong. The city's winding streets offer a taste of metropolitan life, where tropical lychee is best consumed at open-air market stands, fresh seafood is served alongside crispy baguettes, and the sounds of zipping scooters and raucous street performers bounce off colorful colonial-era buildings. It's a friendly, vibrant city that fully embraces everything about the archipelago's roots. Not immersing yourself in it before hopping over to resort-based islands is just a wasted opportunity. — Andy Kryza
See the sun rise on the Storr on the Isle of Skye. | JOSHUA EARLE/UNSPLASH
Scotland
How tiny is it: 30,090 square miles
Or, roughly: South Carolina
Not technically its own country, it nonetheless feels like its own land. Trainspotting fans may favor Glasgow, with its luscious street art set against the old-Europe grime. Just as exhilarating is Edinburgh, a city that demands you wear light, comfortable shoes. You're going to want to bounce to live ska and rock shows at clubs along Cowgate. You're going to want to traipse up to Edinburgh Castle for some of the finest city views anywhere. And you're going to want to hike to the peak of Arthur's Seat, the 800ft-tall faux-mountain that, along with the 12th-century castle, bookends the city's center.
Then, get out of town. Get a car and drive north, past the hallway-shaped Loch Ness, up to the land of peat and Scotch, ideally on one of the numerous days when the silver clouds shade the sun. Find a proper spot and get ready to clamber again: this time, up one of the shaggy-grassed hills that give the Highlands their name. This craggy country, famous for writers and engineers alike, has fantastic and inspiring views, yet it makes you work for 'em. No wonder the Scotsmen of yore pioneered the world's most comfortable climbing pants, still commonly in use today, in an array of plaids. — Sam Eifling
Friendly Nepal attracts spiritual seekers and mountain hikers. | SEBASTIAN PENA LAMBARRI/UNSPLASH
Nepal
How tiny is it: 56,827 square miles
Or, roughly: Iowa
This colorful patch of mountains nestled between China and India is a fascinating blend of Buddhism and Hinduism, dizzying Himalayan peaks and sleepy backpacker towns, dreadlocked hippies and warm locals with open hearts. For such a small country, Nepal has seen its share of turmoil: a royal massacre, a Maoist insurgency, and a devastating earthquake. Nepal's political infrastructure has made rebuilding slow, but tourism can help the country recover faster.
You'll still be able to experience the holy ritual of trekking across snowy peaks (Nepal claims eight of the world's 10 tallest mountains), or learn to paraglide in the clear skies above Lake Pokhara. Before you head off for your big adventure, don't forget to visit a temple to pray to Ganesha, the Hindu elephant god (overcomer of obstacles). Perhaps, you'll be blessed with a smile and a tika on your forehead from the wrinkled woman tending it. — Laura Yan
MORE: All about hiking to Everest Base Camp in Nepal
Dominica is positively stacked with waterfalls. | GREG JOHNSTON/LONELY PLANET IMAGES/GETTY IMAGES
Dominica
How tiny is it: 290 square miles
Or, roughly: Lexington, Kentucky
Tucked between Guadeloupe and Martinique, Dominica stands as one of the least visited, and least developed islands in the Caribbean — for now. After Hurricane Maria devastated the island in 2017, Dominica has rebuilt with a focus on sustainability and luxury eco-properties, debuting it's first true 5-star hotel last year. Even still, this is far from a sip-overpriced-rum-punch-on-a-crowded-beach kind of island. Instead, you'll be traversing through deep tropical jungles, embarking on wild rafting and whale watching adventures, and snorkeling amongst pristine coral reefs, teeming with fish life. It's all about total immersion into raw, unspoiled nature.
Dense trails lead to otherworldly natural sites like the volcanic Boiling Lake and the plunging 200-foot Trafalgar Falls. Seriously, there are so. many. waterfalls here. Hire a driver for the day (extra-friendly locals delight in showing visitors around) and wind through the Roseau Valley, an extra-lush area that sees more than 400 inches of rain a year. Visit Freshwater Lake — found at the center of an old volcano at an altitude of 2,500 feet. For a full breakdown on how to spend the perfect week in Dominica, check out our 5-day itinerary here. — Terry Ward
Glitz and glamor by the sea. | NICK KARVOUNIS/UNSPLASH
Monaco
How tiny is it? 485 acres
Or, roughly: 40% the size of Central Park
If you throw the words "in Monaco" at the end of absolutely anything, it just sounds glamorous. Like if you said, "Yeah, I remember that time I had to go buy aluminum foil… IN MONACO" people would probably assume that aluminum was encrusted with precious emeralds.
Monaco's glitz and glamour largely derives from its reputation as a tax haven for the world's elite; the grand, Roman-inspired buildings, yachts floating in Port Hercules, and high-end shopping help feed the image. Before you go all James Bond at the casino, though, you can do Monaco without going broke. Across the port from Monte Carlo is Monaco-ville, home to the old city, palace, and oceanographic museum. All of which can easily fill a day, and cost about the same as a day at your local history museum.
Restaurants here are all European charm, with outdoor cafes and Italian pizza joints on literally every street. Most are reasonably priced, and the food is as spectacular as you'd expect from a country wedged between Italy and France. The casino might be intimidating, but on weeknights you can find 10 Euro minimum tables to gamble among the opulence. Or, if you're hell bent on saying you played roulette in Monte Carlo — and 10 Euros is a little steep — the locals' casino near the Fairmont has lower minimums, and is fun in a completely different way. — Matt Meltzer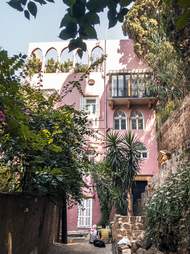 Beirut rocks world-class nightlife and walkable neighborhoods. | MICHAL GADEK/UNSPLASH
Lebanon
How tiny is it: 4,036 square miles
Or roughly: Delaware with a side of Rhode Island
With dramatic snow-capped peaks and a coastline that shimmers like the Côte d'Azur, you won't find a better slice of land in the Middle East. Time it right and you can spend your morning shredding near-perfect snowpack at a Swiss-style ski resort, then cruise back down the mountain for an afternoon dip in the Mediterranean. All in a nation that's smaller than Connecticut. Take it from someone born in Connecticut — Lebanon's a hell of a lot better choice for your next big trip.
Yes, war in neighboring Syria is raging 70 miles away, but the Lebanese have done a solid job protecting against spillover; once you experience your own vicious civil war, as they have, lasting peace is a top priority. Visitors can expect a diverse and hospitable nation with cosmopolitan cities, incredible food, and an ancient wine-growing culture that produces some killer rosé. Beirut, the capital, channels both the seaside glitz of Miami and the leafy, walkable charm of southern Europe, with sidewalk cafes, boutiques, galleries, and one of the world's most notorious nightlife scenes. — Paul Jebara
MORE: Delve deeper into Beirut's food, nightlife, and day trips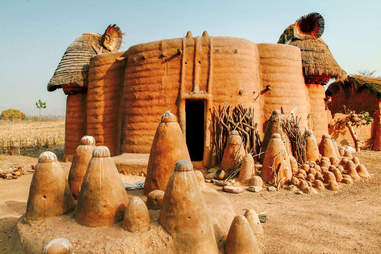 Togo is brimming with traditional music, dance, and voodoo. | ALDO PAVAN/THE IMAGE BANK/GETTY
Togo
How tiny is it: 21,925 miles
Or roughly: Almost a West Virginia
Tucked on the Atlantic Coast between Benin and Ghana, Togo makes up for its diminutive size with a massive wealth of experiences, packing history both compelling and tragic into a dense country of stunning natural beauty and rich cultural heritage.
With savannas in the north, mountains at the center, and beautiful beaches to the south, Togo is a can't-lose choose your own adventure game. The best way to see the country is to drive farthest north, then work your way back to the lush beaches of Lomé. You'll discover the iconic mud huts of Koutammakou and the cascading waterfalls and dense jungles of Mount Agou. Those seeking safari experiences will find the requisite wildlife in Fazao-Malfakassa National Park or Keran National Reserve. History buffs will discover horrific relics of the slave trade in Togoville and a thriving voodoo culture near the capital. Or do it all: Nowhere else in the African continent is such a diverse and singularly stunning road trip so easy to pull off. — Becki Iverson
Seoul is undoubtedly one of the greatest eating and drinking cities on the planet. | MARKUS WINKLER/UNSPLASH
South Korea
How tiny it is: 38,691 square miles
Or, roughly: Three Marylands
South Korea is like the Tracy Flick-turned-cool-kid of East Asian countries. For years, it tried super hard just to make people like it. Then it propelled itself to the top of the global pecking order with K-pop's super-sparkly global dominance, the country's creative, unflinching cinema, and Seoul's trend-setting fashion.
Korea may be Asia's new arbiter of taste and style, but here's the thing: it's refreshingly approachable. There are English street signs everywhere. Free Wi-Fi abounds. Seoul, its capital megacity, boasts a spotless, futuristic subway system that makes navigating urban sprawl a snap. A 24/7 free, multilingual travel hotline will lead you to the nearest Korean BBQ fix or a cheap, clean place to crash.
Get to know Koreans, and you'll find they're anything but reserved. This is a country that runs on infectious exuberance. Insanely fast mountain hikers in head-to-toe neon will cheer you on as they pass you, even if they don't speak your language. Sporting events draw epic watch parties in public spaces. Diners have insatiable appetites for the unlimited banchan side dishes that crowd restaurant tables. And there's a good chance that stunner who looks like a K-pop star could end up handling her soju even better than you. — Hannah Bae
MORE: Everything you need to know before your first trip to Seoul
The vibe in Brussels is open-minded, convivial, and a little punk rock. | ALEX VASEY/UNSPLASH
Belgium
How tiny is it: 11,787 square miles
Or, roughly: Two Connecticuts
The beer, chocolate, and waffles, you're probably familiar with. But don't sleep on Belgians themselves — they're some of Europe's friendliest (and most under-appreciated) denizens. Belgium's whole culture revolves around not taking life too seriously. Just look at Brussels. You'd expect it to be all no-nonsense and offices as the de facto EU capital. Instead, the city's a haven of wacky art, eclectic graffiti, and rowdy outdoor festivals. Then there's the Manneken Pis — that iconic sculpture of a tiny naked boy peeing (FYI, these days he's often dressed in costume — e.g. Elvis or the Pope). In Belgium's countryside, locals are even more welcoming, always down for telling self-deprecating jokes about their country's mishmash of language and ethnicities. Belgians also love (love) making fun of the French — which you just can't help but appreciate. — Barbara Woolsey
MORE: Things to do in Brussels, Europe's greatest wild card city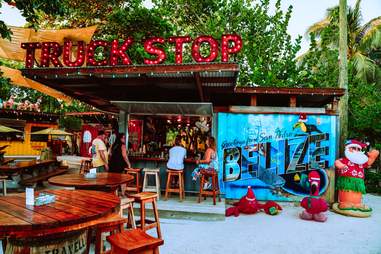 Pony up to one of Belize's many beach-front bars. | MERITT THOMAS/UNSPLASH
Belize
How tiny is it: 8,867 square miles
Or roughly: A hair bigger than New Jersey
She may be small, but Belize rocks the second largest barrier reef on the planet. Naturally, a visit to this jungle nation should include a dive at the Great Blue Hole, a 406-foot deep, 1,000-foot wide underwater cave that Jacques Cousteau christened one of the world's best scuba diving sites. If you're not a hardcore experienced diver, you can still arrange a snorkeling excursion to a spot like Silk Cayes, an itty bitty island 22 miles offshore with nothing more than some palm trees and a grill. Swim with loggerhead turtles, bob above the colorful coral, and let time slip by, Caribbean-style.
Belize also rocks its own special brand of lively and laid-back nightlife. With a relatively small population of easygoing locals, nearly all of whom speak english, you'll have no problem making friends at one of the many open-air beach bars — or scoring an invitation to someone's house party, for that matter. The small, skinny island of Caye Caulker is a go-to for the young and the aimless, where locals, backpackers, and tourists of all stripes come together over Belikin beers, lobster, and fresh conch. — Thrillist Travel