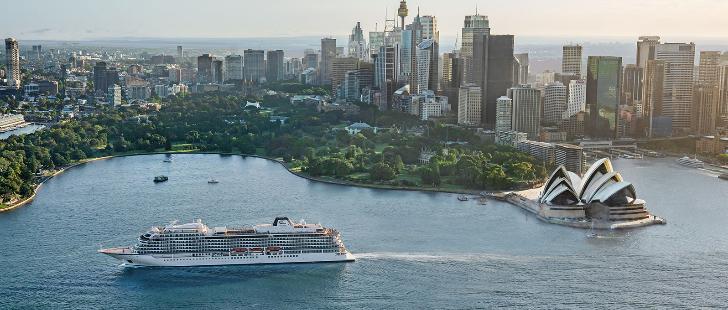 By   James Shillinglaw, Dec 17, 2020
Most higher end cruise lines are betting that the much-vaunted world cruise won't be a casualty of the pandemic. Indeed, in response to strong demand for its World Cruise itineraries, Viking just announced plans for its new 2022-2023 Viking World Cruise, which will span 138 days, 28 countries and 58 ports, with overnight stays in 11 cities. Departing on Dec. 22, 2022 from Fort Lauderdale, guests will sail on Viking's newest ocean vessel, Viking Neptune, which will join Viking's fleet of nearly identical 930-guest ocean ships in late 2022.
Viking World Cruise guests will embark in Florida and journey to Central America, before transiting the Panama Canal and sailing up the West Coast of North America. A shorter, 121-day Viking World Journeys itinerary also is also available, allowing guests to join Viking Neptune in Los Angeles and cross the Pacific Ocean to call in Hawaii, Australia and New Zealand, before exploring ports of call in Asia and the Middle East. The ship will then sail through the Mediterranean and conclude the voyage in London.
"We are pleased to offer this new opportunity for explorers to circumnavigate the world in comfort," said Tor Hagen, chairman of Viking. "World Cruises are truly special voyages, and they continue to be one of our most sought-after offerings. Our 2021-2022 World Cruise has already sold out more than a year in advance, which speaks to the enthusiasm of our guests as they look forward to the return of international travel."
Viking's newest World Cruise itinerary visits dozens of the world's top cities, along with lesser-known destinations, in one itinerary. Overnight stays in 11 ports, such as Sydney, Haifa, and Istanbul, and double overnights in Auckland, Bali, Ho Chi Minh, Yangon, and Mumbai allow guests to explore in depth. While on board, Viking offers cultural enrichment through onboard lectures and entertainment, such as the Viking Resident Historian program, which provides guests with a high-level historical and cultural education specific to their journey. Guests can immerse themselves in the world's rich cultures during included excursions that provide unmatched insight into daily life, as well as Privileged Access visits to cultural institutions. Highlights of the new 2022-2023 Viking World Cruise itinerary include:
Kauai: Guests can explore the lush vegetation of tropical Kauai, nicknamed Hawaii's "Garden Island." They can embark on a scenic drive to Wailua, known as the "Land of the Kings," to admire the 150-foot high ʻŌpaekaÊ»a Falls, visit Nawilliwilli's Old Town and enjoy a walk along the beach, or peruse the shops of nearby Anchor Cove.
Sydney: Guests can experience Sydney's magnificent harbor, the world's largest, and enjoy an overnight stay allowing ample time to explore this culture-rich city, from its world-class opera house to the natural wonders of the nearby Blue Mountains.
Singapore: Guests can witness the remarkable cultural diversity of Singapore during an overnight stay. They can take a tour of the city's eclectic neighborhoods, from Little India to Arab Street, visit the futuristic horticultural park showcasing more than one million plants, or enjoy a Night Safari at the world's first nocturnal wildlife park.
Mumbai: A While in port in the bustling metropolis of Mumbai, guests can learn about the life and legacy of activist Mahatma Gandhi, enjoy the Hanging Gardens, one of the prized few parks found in the city, and explore the diversity of its neighborhoods, from the picturesque narrow streets of Old Mumbai to the colorful markets in the city's center.
Istanbul: Guests will have ample time to experience this historic city during an overnight stay. Straddled across two continents and the Bosporus Strait, Istanbul offers a wealth of religious sites to explore, such as the spectacular Blue Mosque or the legendary Hagia Sophia, and boasts delicious fusion cuisine, combining fresh Mediterranean fare with spices from the Far East and Asia.
London: The journey concludes in the historic Royal Borough of Greenwich, London on the Thames River, allowing easy access to the regal capital's iconic sights, including the Tower of London, Houses of Parliament, Big Ben, Westminster Abbey, Buckingham Palace and St. Paul's Cathedral.
Viking's ocean ships have a gross tonnage of 47,800 tons, with 465 staterooms that can host 930 guests. Viking Neptune is the ninth ship to join Viking's ocean fleet, which also includes Viking Star, Viking Sea, Viking Sky, Viking Sun, Viking Orion, Viking Jupiter, Viking Venus and Viking Mars. All ships feature modern Scandinavian design with elegant touches, intimate spaces and attention to detail.
Pricing for the 2022-2023 Viking World Cruise starts at $49,995 per person; pricing for the 2023 Viking World Journeys itinerary starts at $46,995 per person, based on double occupancy. Both of Viking's new World Cruise itineraries offer up to $50,000 per couple in Viking Value, including Business Class international air, transfers to and from the ship, all shipboard gratuities and service fees, complimentary visa services, the Silver Spirits Beverage Package, and free luggage shipping services for embarkation.
Guests who book between now and Feb.28, 2021 will receive an additional $2,000 per person in shore excursion credit for any optional land programs and $1,000 per person in shipboard credit which can be used toward optional tours, spa services, onboard shops and beverages. Viking Explorer Society members who book the 2022-2023 Viking World Cruise or Viking World Journeys through Feb. 28, 2021 will receive an additional $1,000 in shipboard credit per person. For more information, call 800-284-5464 or visit www.viking.com.