Three New Brochures Highlight the Itineraries, Innovations and Amenities
Last year, Scenic, the award-winning luxury travel operator, captured the imagination of cruise fans everywhere with a peek at the designs for the world's first Discovery Yacht, Scenic Eclipse, launching August 2018. Today, Scenic is opening the door further, unveiling even more enticing features and amenities. Highlights include an increase to 10 dining experiences, a longer vessel, scuba diving opportunities, and more, all detailed in three new brochures: Scenic Eclipse, Scenic Discovery Voyages: Europe & The Americas, and Scenic Polar Voyages – Arctic and Antarctica. Brochures are available for download: USA – www.scenicusa.com/ocean-cruises; Canada – www.scenic.ca/eclipse.
Scenic Founder and Managing Director, Glen Moroney, said: "We're extremely proud to present the full range of experiences and on board facilities that make Scenic Eclipse the world's first Discovery Yacht. Over the last 12 months our team of experts have honed the ship's concept to fine tune each area and ensure our guests experience the ultimate in luxury and discovery with the utmost safety."
The "6-star" ultra-luxury mega yacht, carrying just 228 guests, (200 in the polar regions of Arctic and Antarctica), launches in the Mediterranean on August 31, 2018. By marrying luxury, discovery and safety with world-class innovation, Scenic guests can explore above and beyond what was previously possible from a cruise ship. Scenic Eclipse's intimate size allows for docking in unique locations and smaller ports; its GPS dynamic position technology allows it to 'anchor' in areas where the use of a real anchor would make it off-limits; and its onboard seven-seat helicopters and submarine takes guests to the furthest reaches of remote regions.
Luxurious Suites
Setting the benchmark for river cruising is now joined by setting a new standard of ocean-cruising suites. Every one of the 114 spacious and beautifully designed suites feature a private verandah and lounge area. Akin to the finest hotels in the world, the suites range in size from the generous 345ft² Verandah Suites to the 2,659ft² two-bedroom Penthouse Suite.
Fine dining and drinks – for every taste bud
Four new dining options have been added since Scenic first announced Scenic Eclipse last year, bringing the total to ten. Guests can choose from restaurants featuring Italian, steaks and seafood to French fine dining to Asian Fusion to poolside grilling or 24/7 room service. For truly unique experiences, there is a Chef's Table as well as Epicure – a chef-led dedicated cooking emporium. Menus feature the finest fare, including regional specialties sourced from local suppliers.
Relax in Style
Eight spacious bars and lounges offer unlimited complimentary beverages. Options range from the intimate Champagne Bar to the elegant Lobby Lounge and the Azure Bar & Café, where a plate of oysters would go well with a glass of Pinot Gris. Specialty teas are served in the Observatory and every suite has a complimentary mini-bar that is stocked and refreshed daily or as needed.
All-inclusive, opulent extras
Scenic has thought of everything so guests don't have to lift a finger (or wallet): personal service with an almost 1:1 guest-to-staff ratio; butler service for every guest; the 5,900 ft² Spa Sanctuary with plunge pools, hair salon, treatment rooms and more; expert Discovery Leaders on all cruises; heated indoor and outdoor swimming pools; all tipping and gratuities, and much, much more.
All-inclusive shore excursions
Exclusive Scenic Enrich experiences range from a private performance in the elegant Salle Garnier at Opéra de Monte-Carlo to authentic cultural music and dance events on the beaches of Columbia and Greece, while guests will choose from dozens of expert-led Scenic Freechoice activities and discovery excursions by Zodiac, kayak, e-bike, snorkeling and more, without paying anything extra.
Innovative design
Inspired by the sleek contours of a sailing yacht and designed to easily glide through ocean currents, Scenic Eclipse is built to the highest international safety standards, utilizing state-of-the-art technology and a host of safety features, including innovative zero-speed stabilizer fins that are than 50% larger for even greater stability. A rating of Ice Class 1A (Polar Class 6), the highest of any luxury vessel, enables the safest navigation through Arctic and Antarctic waters, while redundant kitchen, engine and navigation systems ensure additional peace of mind.
Beyond adventure
Thanks to seven-seat on board helicopters and a seven-seat submarine capable to depths of 200 meters, Scenic Eclipse will take guests to places previously thought inaccessible, offering a whole new dimension of wonder – from above and below. Scuba diving experiences take in the coral reefs of the Caribbean, the beauty of the Mediterranean, and an abundance of sites in between. Additional fees apply.
Brochure: Scenic Discovery Voyages: Europe & The Americas
From the bright beauty of Croatia to the crystalline waters of Cuba and South America's coastline, guests can choose from a wide array of options in Europe and the Americas. Offering detailed day-to-day itineraries and information on the Scenic Enrich and Freechoice offerings, this brochure is perfect for those who are looking to take in the cultures, histories and incredible range of possibilities available. Scenic has also combined some of their most popular land itineraries so guests can cherry-pick their dream cruise and go seamlessly from Scenic Eclipse to an escorted land journey.
Brochure: Scenic Polar Voyages – Arctic and Antarctica
For guests focused on fulfilling their bucket list of trips to the most remote regions on the planet, this brochure details the cruises to Antarctica, South Georgia and the Falklands; the fjords of Norway and Chile; Svalbard in the Arctic Circle, and the Viking trail that traverses across Scotland, Iceland and Greenland to Atlantic Canada. Guests can also combine their voyage with land adventures for the ultimate in bragging rights.
Brochure: Scenic Eclipse
This overview brochure includes information on all Scenic Eclipse offerings for 2018-2019. While not as detailed in the day-to-day information, it does highlight the leisurely days-at-sea trans-Atlantic sailing and along the coastlines of South America. For those who like to spend more time on the high seas to rediscover their passions, relax in luxury, and take full advantage of enjoying the onboard amenities and dining options.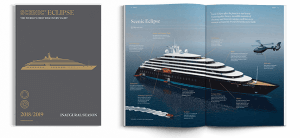 Scenic Luxury Cruises & Tours' Family of Brands has grown over its 30-year history to include award-winning, all-inclusive escorted tours that take participants to many of the world's most fascinating destinations; two award-winning river cruise lines – Scenic and Emerald Waterways; and, in 2018, the World's First Discovery Yacht – Scenic Eclipse.
Additional information on these and other cruises, brochures and reservations can be obtained via travel agents; or in the US: www.scenicusa.com; phone 844-788-7985; or email: info@scenicusa.com: and in Canada: www.scenic.ca; phone (866) 689-8611; or email: canada@scenic.ca. Brochures can also be downloaded directly from the website.