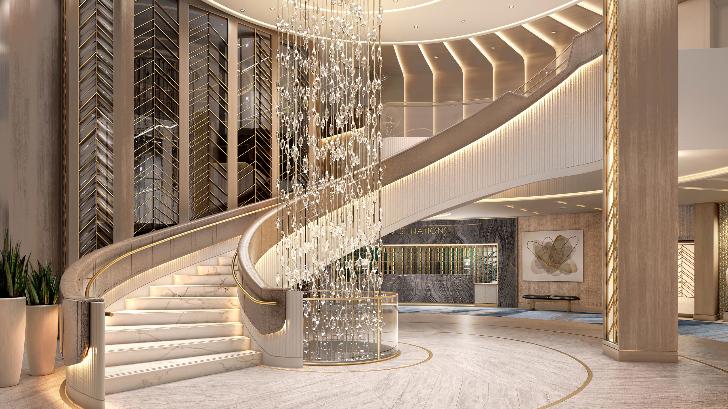 Alan Fine, May 21, 2021
Oceania Cruises unveiled the signature lounges, bars, and wellness facilities of Vista, the first of two new 1,200-guest Allura Class ships that are being constructed by Italian shipbuilder Fincantieri S.p.A. The 67,000-gross-ton, 1,200-guest luxury vessel, the seventh for the line, will set sail in 2023. A second Allura Class ship will debut in 2025.
"Our guests have a passion for new experiences and destinations while also loving to travel to familiar places and seeing them from new directions," said Bob Binder, president and CEO of Oceania. "That drove every aspect of designing Vista, to present a sense of familiarity imbued with unique elements and fresh perspectives."
Purposely designed to deliver the brand's small-ship luxury experience, Vista features a wide variety of social, recreation, and wellness spaces oriented across six of the ship's 11 guest decks. A mixture of both grand and cozy spaces presents guests with a room for every mood and purpose, whether one seeks an intimate getaway spot to enjoy a quiet read, a tony bar for evening cocktails, or to dance the night away with newfound friends.
The Grand Staircase is where every new Oceania journey begins. A floor-to-ceiling pillar of crystal and light sets the tone for the ship and the guest experience (see slide show above). Oceania's reimagined Martinis bar is nestled among walls of glass, and custom sculptural lighting casts a warm glow over the heart of the bar. The Grand Lounge features alcoves enhanced by a gold-infused color palette and sculptural lighting.
Vista's casino's design is art nouveau-inspired, while Horizons features floor-to-ceiling windows with a 180-degree view to accompany afternoon tea and musical performances. The pool deck mirrors the surrounding sea and offers the solitude of a modern beach-club cabana in a variety of textures and natural tones forming a natural oasis to reconnect with nature (see slide show above).
The Aquamar Spa + Vitality Center offers treatment areas, workout and personal training spaces as well as a new salon and barbershop. The spa terrace's sea views confirm that rejuvenation guided the design of the purpose-built holistic wellness center. Vista's culinary experiences and residentially inspired suites and staterooms will be revealed in the coming weeks, with her inaugural voyages opening for sale in September 2021.
Currently under construction by Fincantieri S.p.A. in Italy, Vista will sail her first commercial voyage in early 2023. Measuring approximately 67,000 gross registered tons, the ship will accommodate 1,200 guests and be staffed by 800 officers and crew. An unnamed sister ship will debut in 2025. For more information, call 855-OCEANIA or visit www.OceaniaCruises.com.