By Nicole Edenedo |May 23, 2022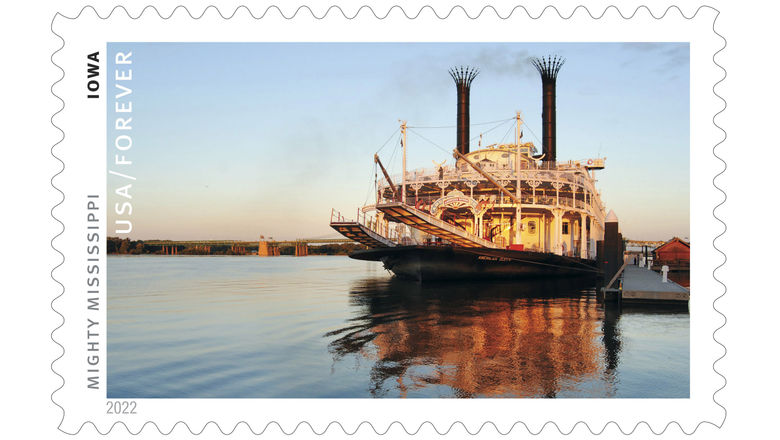 The American Queen from domestic luxury cruise line American Queen Voyages is depicted in one of the U.S. Postal Service's new Mighty Mississippi Forever Stamps. Photo Credit: David Sebben/U.S. Postal Service
American Queen Voyages is now part of the U.S. Postal Service's permanent stamp collection.
The Postal Service has released a new collection of Forever Ever stamps to commemorate the "mighty Mississippi," and the company's flagship vessel, American Queen, is featured on one of the stamps.
The Mighty Mississippi collection features 10 photographs representing the states along the course of the waterway. The American Queen steamboat appears on the Iowa stamp in a photograph taken by David Sebben in 2015 while the ship was docked in Bettendorf. The city is located along the route of domestic luxury cruise line's upper Mississippi itineraries that visit cities from just outside of Minneapolis to St. Louis.
"Our flagship American Queen is an iconic symbol of those mighty paddle-wheelers, and we are honored to have her grace the collection," said John Waggoner, founder and chairman of American Queen Voyages, at the stamp collection's day-of-issue ceremony at the Beale Street Landing in Memphis, Tenn.
The "forever" stamp news comes as American Queen Voyages marks its 10th anniversary sailing the Mississippi River.
The Mighty Mississippi Forever Stamps are being sold in panes of 10, and customers can order through the U.S. Postal Store web store, by calling 844-737-782 or by ordering by mail through USA Philatelic or at post office locations nationwide.